Chat with us on WeekendGoWhere or Facebook Messenger to talk to our travel consultants or WhatsApp +65 93900052
(Mon - Fri, 9am - 6pm / Sat, 9am - 5pm)
---
Hokkaido is the Second Largest Island in Japan and it accounts for around 20% of Japan's total area, but only 5% of the population resides here. There is always something for you to discover in Japan, regardless of the time of the year. When you visit in Spring, there is an abundance of vast colourful plains filled with flowers that are in full bloom. Whereas in Summer, the lakes and seas are in a dazzling shade of blue. In Autumn, the lush greenery turns into a wide array of warm colours while in Winter, the place transforms into a winter wonderland with a snowy backdrop. Different activities will be available during different seasons in Japan, so you will never get bored of Hokkaido. It is no wonder that Hokkaido is the Most Popular Province in Japan, for both locals and tourists alike.
WeekendGoWhere has specially prepared an 8D5N / 8D6N Charm of Hokkaido package for you, including a visit to a chocolate factory and several local markets. Get ready for a trip to remember in Hokkaido!
Departure Dates: Apr-Jun 2019
(Cr: Japan by Japan)
(Cr: Japan. Endless Discovery.)
(Cr: CNN.com)
[Trip Highlights]
Noboribetsu
Historical Village
Jigokudani Hell Valley
Lake Toya
Mount Showa
Bear Ranch
Goryukaku
Mount Hakodate
Morning Market
Kanemori Warehouse
Onuma National Park
Beer Museum
Otaru Canal
Ishiya Chocolate Factory
Sapporo Odori Park
Jogai Market
Old Hokkaido Government Building
Tanukikoji Shopping Arcade
[Trip Itinerary]
Day 1:
Singapore > Sapporo (via Transit Flight)
Assemble at Changi International Airport and begin your vacation with a pleasant flight to the Land of the Rising Sun - Japan.
Day 2:
Sapporo > Noboribetsu
(Lunch / Dinner)
Upon arrival at Chitose Airport, your tour guide will be there to welcome you.
Historical Village of Hokkaido - Visit an open-air museum that consists of historical buildings that existed between the Meiji and Taisho Periods (1868 to 1926). That was a time when Hokkaido started developing on a large scale.
(Cr: japan-guide.com)
Jigokudani - Dubbed as "Hell Valley", this smoking crater of Geothermal Activity is the main source of Noboribetsu's hot spring waters. Even from afar, you can smell the pungent sulfurous fumes and see the hot steam vents.
(Cr: japan-guide.com)
(Cr: atlasobscura.com)
(Cr: japan-guide.com)
Day 3:
Noboribetsu > Nanae > Hakodate
(Breakfast / Lunch / Dinner)
Mount Showa - Created by a series of strong earthquakes, Mount Showa is still an Active Volcano.
(Cr: Wikipedia)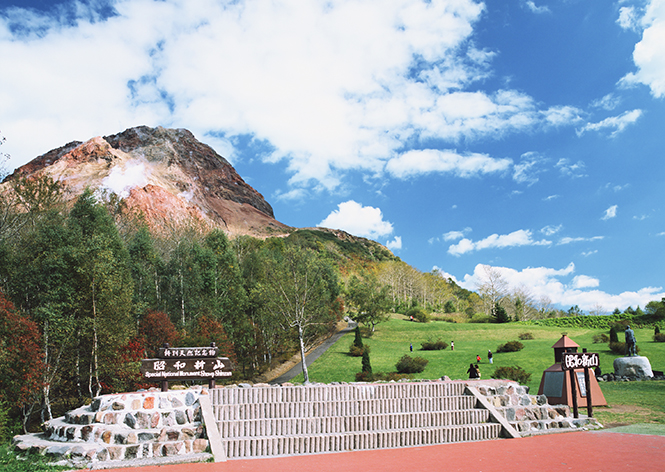 (Cr: good-hokkaido.info )
Bear Ranch - Make a visit to Ezo Grizzly Bears and their cubs at the bear ranch.
Onuma National Park
(Cr: Hokkaido Labo)
Kanemori Red Brick Warehouse - This is the First Commercial Warehouse in Hakodate, which is unique because of its signature red bricks that make up the building!
(Cr: hakodate-kanemori.com)
(Cr: hakodate-kanemori.com)
(Cr: hakodate-kanemori.com)
Konbukan (Seaweed Museum) - Seaweed is a healthy and popular cooking ingredient in Japan, so you definitely must take a tour and learn about this food item.
Mount Hakodate (Hakodateyama) - Take a Cable Car Ride up to see a panoramic view of Hakodate at night. Watch as the streets illuminate with artificial light as you witness what is believed to be one of the Most Beautiful Sights in the World.
(Cr: Travel Hakodate)
(Cr: Travel Hakodate)
(Cr: Travel Hakodate)
(Cr: Travel Hakodate)
Day 4:
Hakodate > Lake Toya
(Breakfast / Lunch / Dinner)
Hakodate Morning Market - Want to get an Authentic Japanese Experience? Good for you because you get to visit the morning market here! If you are an avid seafood lover, then you will like this place as there are over 450 shops offering a huge selection of Fresh Seafood that was caught in the neighbouring seas around the island.
(Cr: Travel Hakodate)
(Cr: Travel Hakodate)
(Cr: Travel Hakodate)
(Cr: Travel Hakodate)
Goryokaku - Next, visit the only remaining castle walls of Goryokaku. The surrounding park is popular in Spring when the 1,500 Cherry Blossoms trees are in full bloom (End Apr - Early May).
(Cr: Travel Hakodate)
Sairo View Point - Visit this observation point and feast your eyes on the stunning views of Lake Toya.
Day 5:
Lake Toya > Otaru > Sapporo
(Breakfast / Dinner)
Kitaichi Glass Museum

Music Box Museum
(Cr: Entree Kibbles)
Otaru Canal - Once an integral part of the city's port in the 20th century, this canal served as a place for vessels to transport goods to the warehouses along the canal. After the canal was no longer in use, it was restored to become what it is today, a canal lined with Victorian-Style Gas Lamps. Imagine taking a stroll here in this Romantic Atmosphere!
(Cr: Otaru Canal Cruise )
Ishiya Chocolate Factory - Many of you are probably familiar with Hokkaido's "White Lover's Chocolate". Whenever your friends or relatives go to Hokkaido, they will never forget to bring this snack home to share! See how Hokkaido's Most Well-Known Souvenir is produced!
(Cr: shiroikoibitopark.jp)
Odori Park - At the Eastern end of Odori Park stands a TV Tower with an Observation Deck that offers a great view of Odori Park and the city of Sapporo.
(Cr: ordyme.wordpress.com)
Day 6:
Sapporo
(Breakfast / Lunch)
Jogai Market - Make a trip to one of the city's Largest Public Markets, which is known for its Fresh Produce such as crabs, sea urchins, salmon roe, squids and also their Local Produce such as corn, melon and potatoes. Curb Market consists of nearly 80 stores and restaurants. Keep an eye out for the extremely HUGE king crabs that have a sweet flavour and soft meat!
(Cr: Hokkaido Labo)
Former Hokkaido Government Building - Nicknamed the "Red Brick Office", this building was inspired by the Massachusetts State House in the USA.
(Cr: Welcome to Sapporo)
Beer Museum - When you are in Hokkaido, you are also in the Birthplace of Sapporo Beer, the oldest and most popular beer brands in the country! Get to learn about the history of beer in Japan and take a look at the beer making processes.
(Cr: sapporobeer.jp)
(Cr: sapporobeer.jp)
Tanukikoji Shopping Arcade - Shop to your heart's content at Tanukikoji, which is a kilometre-long street that is home to around 200 shops that range from restaurants, souvenir shops and also karaoke bars!
(Cr: Welcome to Sapporo)
Mitsui Outlet Park - Wrap up your day with more shopping at Mitsui Outlet Park! Visit this Large-Scale Outlet Mall which features about 180 stores offering a wide selection of branded goods. Here, you can choose to purchase souvenirs that are Unique to Hokkaido such as local sake.
(Cr: Welcome to Sapporo)
Day 7:
Sapporo
(Breakfast)
Free Day for

8D6N

Tour
Transfer to the airport for your flight back to Singapore for the

8D5N

Tour (Via Transit Flight)
Day 8:

For 8D6N only
Sapporo > Singapore (Via Transit Flight)
(Breakfast)
Free Day
Transfer to the Airport for your flight back to Singapore.
Everything is all set and ready for you. What are you waiting for? Embark on your next adventure in Japan!
[Hotel Accommodation]
Lake Toya: Toya Manseigaku (Hot Spring) or similar
Hakodate: Hakodate Yunohama Hotel or similar
Jozankei: Jozankei View Hotel or similar
Sapporo: Excel Tokyu Hotel or similar
[Pricing]
Our package starts from S$2,688 / Adult
Departure Dates: Apr-Jun 2019
Chat with us on WeekendGoWhere or Facebook Messenger to talk to our travel consultants or WhatsApp +65 93900052
(Mon - Fri, 9am - 6pm / Sat, 9am - 5pm)
*Price excludes airport tax, local tax, and all spendings of personal nature.
[Delicacies]
5/6 Breakfasts + 4 Lunches + 4 Dinners
Seafood Steamboat
Yakiniku
Ramen Shabu Buffet
Japanese Buffet
Crab Buffet
Note:
Chinese Speaking Group
In the event of unforeseen circumstances, the sequence of itinerary is subject to changes without prior notice.
The review of hotels is based on the local rating.
Children age-range: 2-11 years-old
BOOK WITH US TO GET FREE PIKACHU AND PSYDUCK GIFTS!


OR Pick a Cute Pikachu Neck Pillow!
---
Plan a wonderful weekend with us! Contact our travel hotline 6358 4231 or send us a message on our Facebook Page for more details.

WeekendGoWhere Product | Travel the World, One Weekend at a Time!
WeekendGoWhere Singapore is a Singapore Tourism Board (STB) certified travel agency. We provide you with discounted electronic tickets for Singapore attractions and great travel packages.
There are no reviews yet.
Write a review
In order to write a review, you must first
login
.