Chat with us on WeekendGoWhere or Facebook Messenger to talk to our travel consultants or WhatsApp +65 93900052
(Mon - Fri, 9am - 6pm / Sat, 9am - 5pm)
---
The Cherry Blossom Season in South Korea is a magical time as the country shrugs off the winter chill and re-emerges with vibrant colours and lovely scents. These beautiful flowers typically go into full bloom for one to two weeks, making the viewing period relatively short. Fret not, because we have the perfect package for you to admire these flowers that appear like pink clouds sticking to branches in clusters. You will be able to visit the Top 3 Spots to view cherry blossoms in Korea!
WeekendGoWhere has specially prepared an 8D6N Romantic Korea & Jeju package for you, which includes visiting multiple Cherry Blossom Festivals. Sit back and relax as you immerse yourself in the various shades of pink and soak in the soothing ambience. The faint scent of cherry blossoms lingers in the air in both the heart of the city and the quietest of rural areas, making spring the best time to visit South Korea!
Departure Dates: 1, 2, 3, 4 April 2019
(Cr: visitkorea)
(Cr: visitkorea)
[Trip Highlights]
Paju Odusan Unification Tower
Play K-POP
Suncheon Bay National Garden
Gokseong Train Village
Jeonju Hanok Village + Korean Hanbok Wearing
Jaman Mural Village
The Painters HERO Show
[Trip Itinerary]
Day 1:
Singapore > Seoul
(Meals will be provided onboard the flight)
Assemble at Singapore Changi Airport for the flight to Seoul.
Day 2:
Seoul > Paju > Gimpo > Jeju
(Meals will be provided onboard the flight / Lunch / Dinner)
Odusan Unification Tower - The tower offers a panoramic view of the Korean Demilitarized Zone and North Korea. With the aid of binoculars, you can see across the Hangang River and glimpse into the lives of the North Koreans. Over here, you can clearly feel the reality of the division between the two countries.
(Cr: visitkorea)
Domestic flight to Jeju Island.
Aewol Coastal Road - Drive along this scenic route and admire the unique black rock formations, whereby one of them looks like a dragon's head (Yongduam Rock).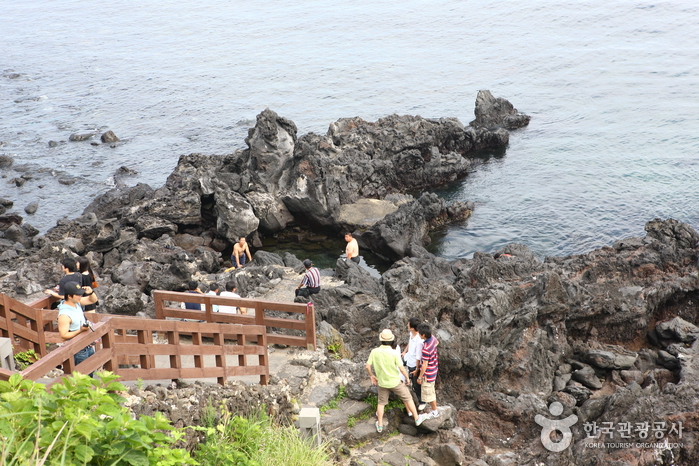 (Cr: visitkorea)
Day 3:
Jeju
(Breakfast / Lunch / Dinner)
Seongsan Sunrise Peak - This volcanic crater is listed as one of the UNESCO World Heritage sites. It was formed during an underwater volcanic eruption about 100,000 years ago. Since it is located on the eastern end of the island, it is the perfect spot for Sunrise Watching, especially in spring as the area is surrounded by vast fields of brightly coloured canola flowers.
(Cr: The Jeju Weekly)
(Cr: visitkorea)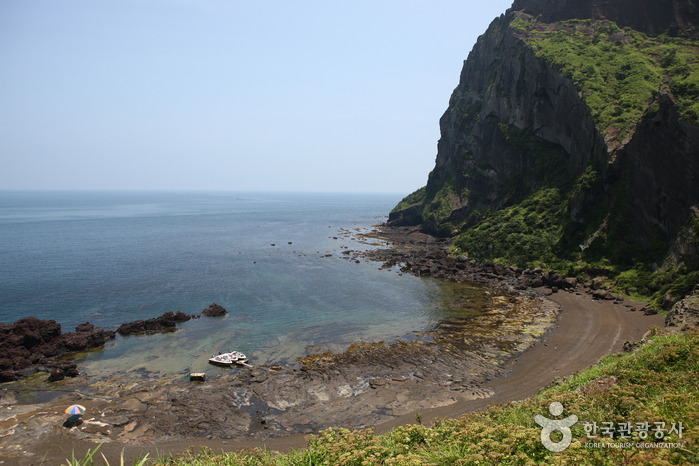 (Cr: visitkorea)
Seongeup Folk Village - At this village, get to experience the Unique Folk Culture of Jeju Island, which features black lava rock walls, the straight but curvy alleys to block the wind, and of course, the local black-haired pigs!
​​​​
(Cr: visitkorea)
(Cr: The Google Girl Blog)
(Cr: The Google Girl Blog)
Jeju Cherry Blossom Festival - Home to the King Cherry Trees, the pale pink petals of these sakura flowers can be seen all over the island. Did you know? There is actually a popular road lined with beautiful cherry blossoms in the heart of Jeju City and this road is closed for pedestrians to walk about safely.
​​
(Cr: visitkorea)
(Cr: visitjeju)
Daepo Jusangjeolli Cliff - These rock pillars are shaped like cubes or hexagons of various sizes and seem as if stonemasons had carved them out. It is definitely a peculiar sight you do not want to miss!
​​
(Cr: visitkorea)
Play K-pop - Meet your favourite YG artistes including PSY, BIGBANG, and 2NE1 and watch a Live Hologram Concert, as though you are actually there!
O'sulloc Tea Museum + Innisfree Jeju House - Relax with the views of the nearby green tea fields and beautiful landscape.
Day 4:
Jeju > Busan > Jinhae > Yeosu
(Breakfast / Lunch / Dinner)
Domestic flight to Busan and then transfer to Jinhae.
Jinhae Cherry Blossom Festival - Visit the best cherry blossom viewing spots at Yeojwacheon Romance Bridge and Gyeonghwa Station, where there are many photo opportunities available! The rows of cherry blossoms stretch a distance of 800 metres along the railway which has been converted to a tourist attraction since 2006.
​​
(Cr: visitkorea)
(Cr: visitkorea)
(Cr: Klook)
(Cr: visitkorea)
Day 5:
Yeosu > Suncheon > Gokseong > Jeonju
(Breakfast / Lunch / Dinner)
Suncheon Bay National Garden - Home to more than 100 million spring flowers, this is Korea's First National Garden.
Gokseong Train Village - Get on board a steam engine train and enjoy the scenic view made up of lush greenery along the Seomjingang River and flowers alongside the roads.
​​
(Cr: visitkorea)
Day 6:
Jeonju > Seoul
(Breakfast / Lunch / Dinner)
Jeonju Hanok Village - One of the best-preserved Hanok Villages, where you will be given the opportunity to Dress Up in Traditional Korean Costumes (Hanbok) for photo taking opportunities along the beautiful streets and alleys. This village is special because it retained its historical charms and traditions while the rest of the city became industrialized.
​​
(Cr: tripzilla)
(Cr: iamontheroad)
(Cr: Gratis)
Photo stop at Jeondong Cathedral.
Jaman Mural Village - Have your camera ready to capture the beautiful street art. (Do expect some walking and uphill climbing)
Transfer to Seoul, then proceed to an Amethyst Factory to take a look at sparkly purple stones.
Tongin Market - This traditional market dates back to June 1941, and it was set up as a public market for Japanese residents when Korea was still under Japanese rule.
​​
(Cr: visitkorea)
Day 7:
Seoul
(Breakfast / Lunch)
Korean Ginseng Monopoly Show Room
Cosmetic Shop
Gyeongbokgung Palace - Gyeongbokgung Palace is arguably the most beautiful, and remains the largest of all five palaces in Korea. This palace was built during the Joseon Dynasty and is extremely rich in history. (This visit will be replaced with the Changdeokgung Palace if the visit falls on a Tuesday.)
​​
(Cr: SilverKris)
Drive past Cheong Wa Dae, The Blue House
Myeongdong Shopping - Myeongdong is one of the busiest places in Seoul and is among Korea's premier shopping destinations. Over 1 million shoppers pass through this area every day. Every Korean Cosmetic Brand has a branch in Myeongdong, so you definitely won't run out of things to shop here! If anything, you will find it hard to leave this Shopping Paradise!
​​
(Cr: visitkorea)
The Painters HERO Show - Enjoy an 80-minute innovative non-verbal performance art show combined with music, dance and comedy.
Day 8:
Seoul > Singapore (Home Sweet Home)
(Breakfast / Meals will be provided onboard the flight)
Yeouido Spring Flower Festival - Witness about 1,800 King Cherry Trees blossom on Yeouido Island in a spectacle not to be missed. Watch how these pink trees decorate the streets of Yeouido, and you'll understand why this festival is one of the Most Popular in Seoul.
​​
(Cr: Time Out)
(Cr: visitkorea)
Korean Herbal Specialist - where you can understand and learn about health products
Local Supermarket
Transfer to the airport for your flight back to Singapore. We hope you have had an enjoyable and memorable vacation with WeekendGoWhere!
Everything is all set and ready for you. What are you waiting for? Embark on your next adventure in Korea!
[Hotel Accommodation]
2 Nights in Jeju
1 Night in Yeosu
1 Night in Jeonju
2 Nights in Seoul
[Pricing]
Our package starts from S$1,688 / Adult
Departure Dates: 1, 2, 3, 4 April 2019
Chat with us on WeekendGoWhere or Facebook Messenger to talk to our travel consultants or WhatsApp +65 93900052
(Mon - Fri, 9am - 6pm / Sat, 9am - 5pm)
*Price excludes airport tax, local tax, and all spendings of personal nature.
[Delicacies]
6 Breakfasts + 6 Lunches + 5 Dinners
Michelin Green Guide "Korean" Restaurant
Whole Abalone Hotpot
Jeju Black Pork BBQ + Hallasan Fried Rice
Korean Traditional Noodle + Korean Stew Steak
Abalone Seafood Steamboat
Korean Freshwater Crab + Fish Steamboat
Korea Traditional Hanjeongsik
Korea Ginseng Chicken
All You Can Eat Buffet
Note:
Mandarin speaking

tour guide.

Adjustments to the schedule may be made according to the situation.

Children age-range: 2-11 years-old
BOOK WITH US TO GET FREE PIKACHU AND PSYDUCK GIFTS!


OR Pick a Cute Pikachu Neck Pillow!
---
Plan a wonderful weekend with us! Contact our travel hotline 6358 4231 or send us a message on our Facebook Page for more details.

WeekendGoWhere Product | Travel the World, One Weekend at a Time!
WeekendGoWhere Singapore is a Singapore Tourism Board (STB) certified travel agency. We provide you with discounted electronic tickets for Singapore attractions and great travel packages.
There are no reviews yet.
Write a review
In order to write a review, you must first
login
.