Enter into the seven lands with themes surrounding your favourite Disney movies: Toy Story, the Wild West and Americana as well as mystery, fantasy, space and adventure! Mickey and Minnie are ready for your meet and greet, while the Cinderella Castle shimmers impressively and the fireworks wait to be set off. Enjoy thrilling rides, meet your favourite characters, and watch amazing Broadway-style shows - all at the best possible Disneyland Hong Kong ticket price! Don't miss Disney Parks' first Marvel-themed ride - the Iron Man Experience now open at Hong Kong Disneyland! What are you waiting for? Come to Disney and delight in endless fun!
The Magical Castle, brimming with lights, shimmers and all that glitters in Hong Kong Disneyland
The Iron Man Experience
Don't miss Disney Parks' first Marvel-themed ride - the Iron Man Experience now open at Hong Kong Disneyland!
Star Wars Command Post
Journey to a hidden Resistance base where you may encounter some of the greatest heroes of the Star Wars saga. Come face to face with the Wookiee warrior Chewbacca or meet the brave droid R2-D2!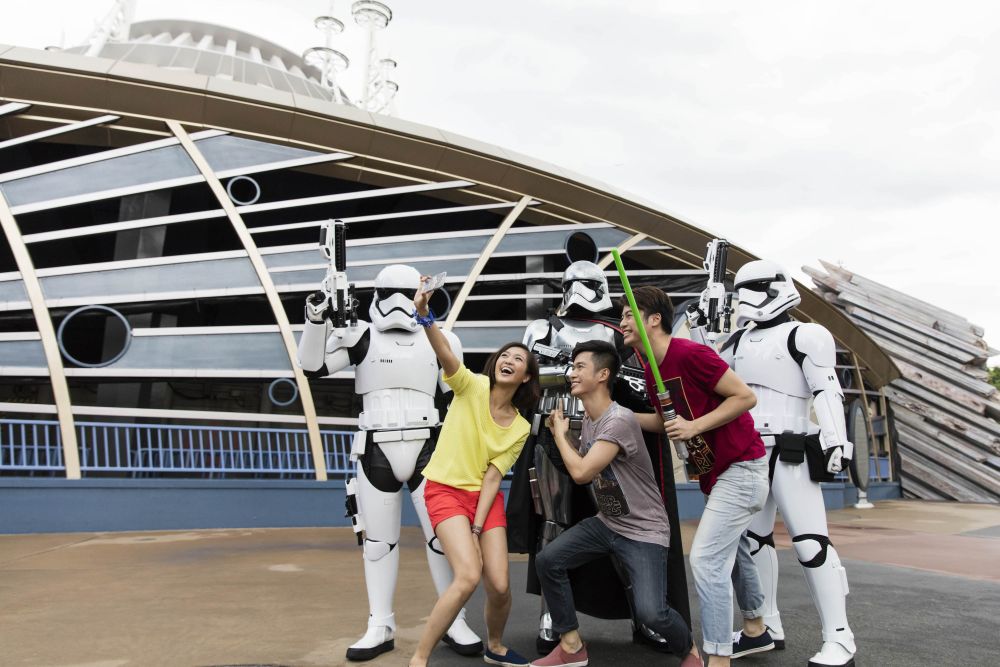 Mickey and the Wondrous Book
A new and spectacularly unique "Happily Ever After" show has been created to bring to life new and classic Disney stories and movies in an exhilarating, musical revue stage production like no other!
Meet Anna and Else at the Royal Banquet Hall Terrace
Meet Princess Anna and Elsa with their friends who have come all the way from Arendelle. Give her a warm hug, then smile for the camera and say, "Freeze!"
Meet Tinker Bell at Fairy Tale Forest
Fly away to Fairy Tale Forest where you can come face-to-face with a magical fairy from Pixie Hollow—Tinker Bell!
Meet Jessie and Woody at the Barrel of Fun
Jessie the yodeling cowgirl—and Sheriff Woody—from the Disney•Pixar Toy Story movies are waitin' to meet ya!
"Disney Paint the Night" Nighttime Spectacular
Unleash your imagination when Mickey Mouse lights up the night with a procession of Disney Characters and a pageant of magical visions.
Happy Chinese new year everyone!
Micky mouse and friends wishing you a Merry Christmas!
Celebrate a spooky Halloween with Minnie and friends!
Amazing sights and experience waiting to be explored. Lastly, no adventure is complete without a map. Discover to your heart desire in Hong Kong Disneyland!
There are no reviews yet.
Write a review
In order to write a review, you must first
login
.
How to use tickets:
Please make reservation with our friendly consultant 3 days prior to your trip
Please print out your e-ticket to change for a physical ticket at the ticketing counter or at the automatic ticketing kiosk
Children: 3 to 11 years old (12 and above will be charged as adult price)
Elderly: 65 and above
If you face any difficulties for entry to Hong Kong Disneyland, please contact our friendly consultant and we will do our best to assist you.
Weekendgowhere kindly advice to keep check of your health condition, if you are feeling unwell please seek assistant in the park and refrain from taking the various attractions/rides.
Recommended Transport:
MTR Stations
Trains run from Sunny Bay Station to Hong Kong Disneyland Resort and back daily, from early in the morning until late at night. Trains will arrive frequently, typically running every few minutes or so.

For up-to-date MTR train schedule information, visit the MTR website.
Hong Kong Disneyland Resort is only a 30-minute ride from the following MTR stations:
Hong Kong International Airport MTR Station (Transfer at Tsing Yi Station and transfer to Sunny Bay Station)
MTR Kowloon Station
MTR Hong Kong Station
You can purchase an Octopus card for easy travels
Cancellation:
Once confirmed, no cancellation may be made. Opening hours subject to change due to special events, without prior notice.