Click the buttons below to Chat With Us!
---
Highlights
Unique Glamping Experience in Safari-Themed Tents
ONLY a 1-Hour Journey from Singapore
Private BBQ Tent Dinner
Home to Southeast Asia's Largest Man-Made Saltwater Lagoon
Many more Activities for YOU!

Price for Package
Garden Tent
2D1N from SGD 201 / person ONLY!
* For Subsequent Nights and other Room Types, please contact us for the prices.
* Price is subject to change depending on the travel date and number of travellers.
Package Includes
Accommodation
Breakfast
Two-Way Ferry Tickets
Two-Way Land Transfer
Complimentary Entry to Chill Cove at Treasure Bay Bintan
* Package Excludes:
Personal Insurance, Porterage Fee, Visa Fee & All expense of purely personal nature
---
Never had a pleasant camping experience before? Good news! What happens when you add glamour to camping? You get Glamping!
At Natra Bintan (The Canopi), scoot around Southeast Asia's largest man-made saltwater lagoon and hop on a jet ski. Explore the private mangroves by Kayak and catch a ride on an ATV! After a day worth of activities, relax and calm yourself down with a unique dining experience just beside the lagoon at The Patio Restaurant and Bar. For those who would like to get a real camping experience, then you can opt for an outdoor BBQ! Just a one-hour ferry ride from Singapore, The Canopi Bintan is definitely your next retreat!
---
Room Types
Garden Tent
The Garden Tent allows its glampers to relax in a private patio, to soak in the alluring outdoors and nature together with family and friends while enjoying the BBQ under the stars.
Size: 40 sqm | Capacity: 4 | Bed: King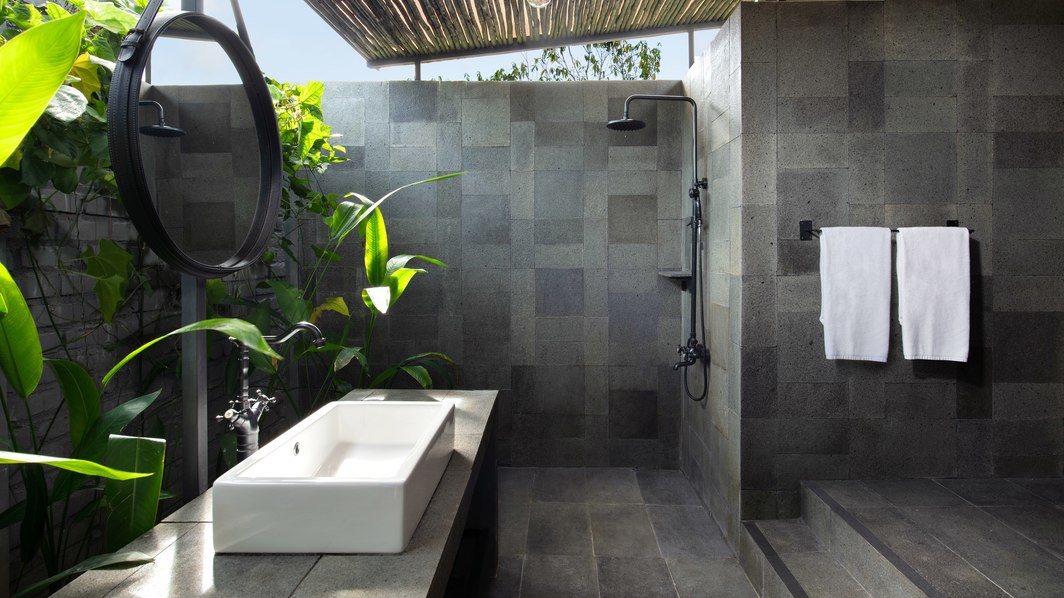 Safari Tent
The Safari Tent welcomes its glampers with tent clusters of fours and six-es circling a private courtyard for bigger groups of family and friends to enjoy their glamping experience together.
Size: 40 sqm | Capacity: 4 | Bed: King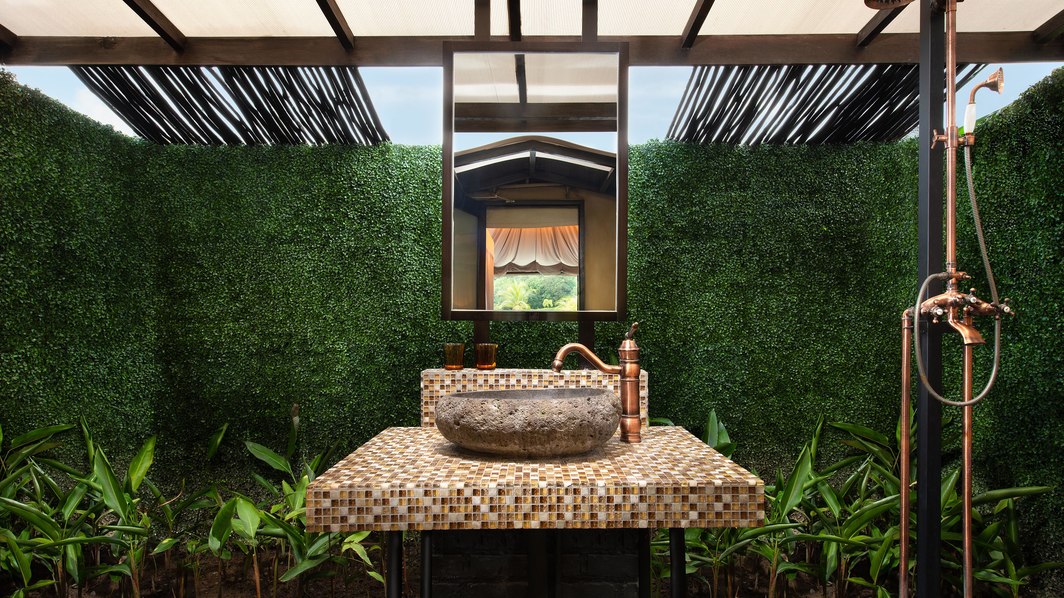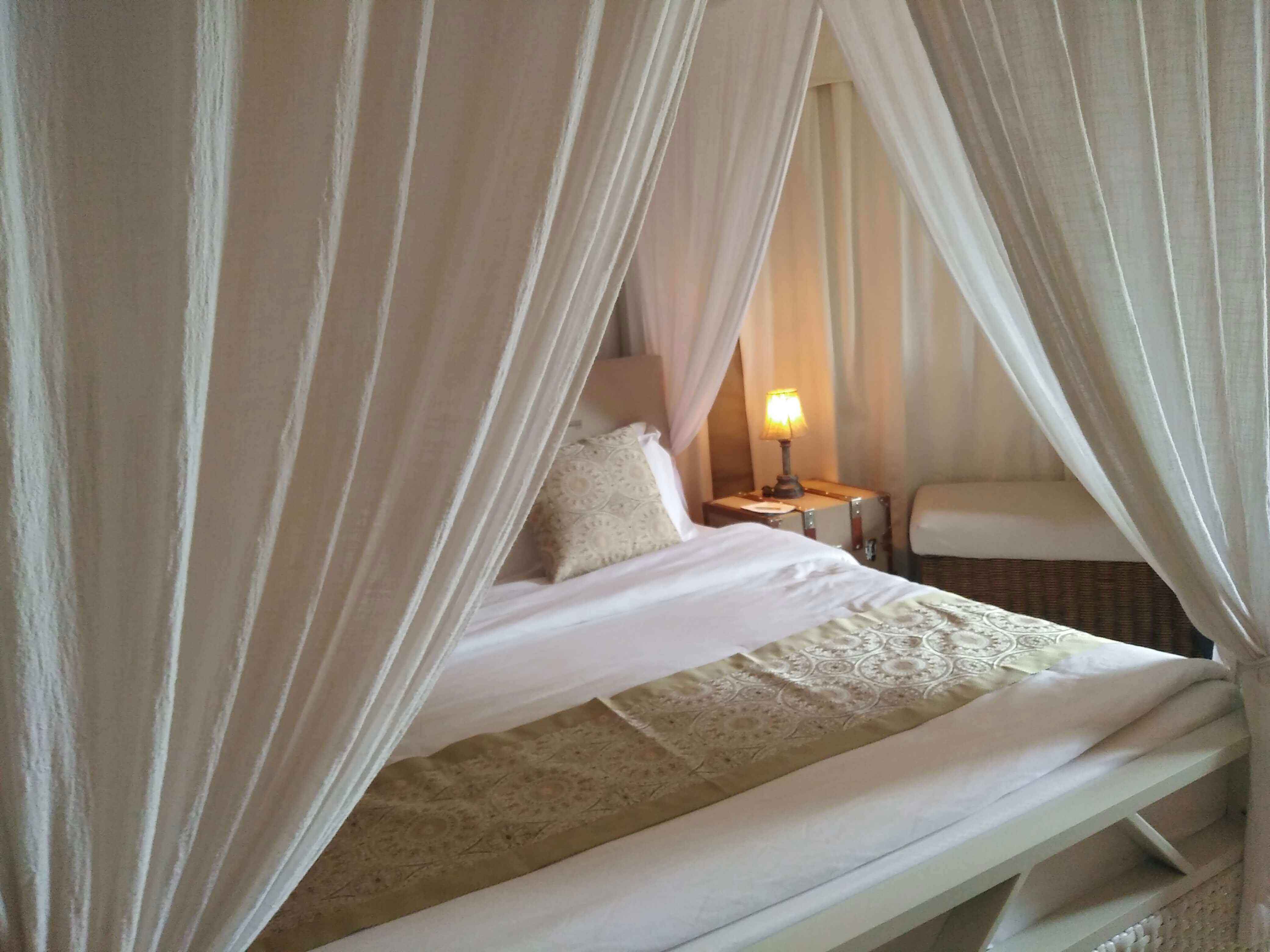 Lagoon View Tent
It is specially catered to family with young children and fun-seeker for a quick access to the lagoon.
Size: 40 sqm | Capacity: 4 | Bed: King | View: Lagoon View
Lagoon View Deluxe Tent
The Lagoon View Deluxe Tent highlights an outdoor whirlpool bath with a relaxing view overlooking at the Crystal Lagoon.
Size: 45 sqm | Capacity: 4 | Bed: King | View: Lagoon View
Glamping Deluxe Tent
The tent comes with an en-suite whirlpool bath, which is perfect for couples and honeymooners.
Size: 45 sqm | Capacity: 4 | Bed: King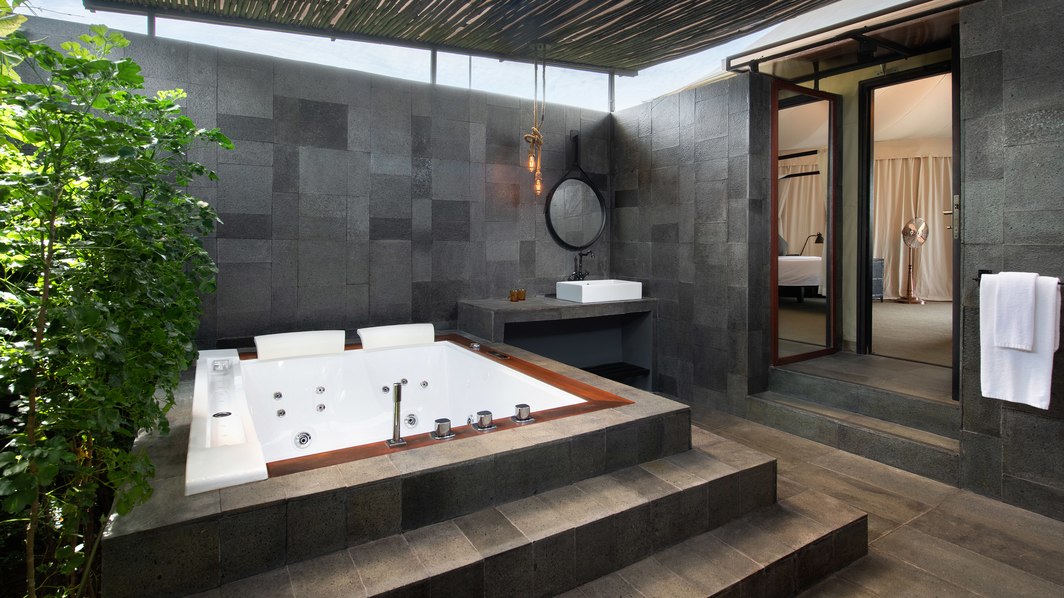 Amenities
BBQ and/or Picnic Area
Gift / Newsstand
Concierge Desk
Daily Housekeeping Services
Laundry Services
Limousine Services
24/7 Room Services
Complimentary WiFi
Air Con
Complimentary Bottled Water
Coffee & Tea Maker
Mini Fridge
Pull-Out Sofa Bed
---
Dining
BBQ and/or Picnic Area
What's camping without a campfire? Get the real camping experience with an outdoor BBQ. Chat till the wee hours of the night with your best buds and reminiscence your childhood!
The Patio Restaurant and Bar
This All-Day Dining venue offers International Cuisine, complete with refreshing cocktails and an alfresco lounge. Lounge on the comfortable seats that overlook the Crystal Lagoons!
---
Activities
Jetovator
Kayaking
Water-skiing
Chill Cove @ Treasure Bay Bintan (Located at Crystal Lagoon)

V Botanical Spa

Pirates' Adventure Indoor Playground
Scooter for Rent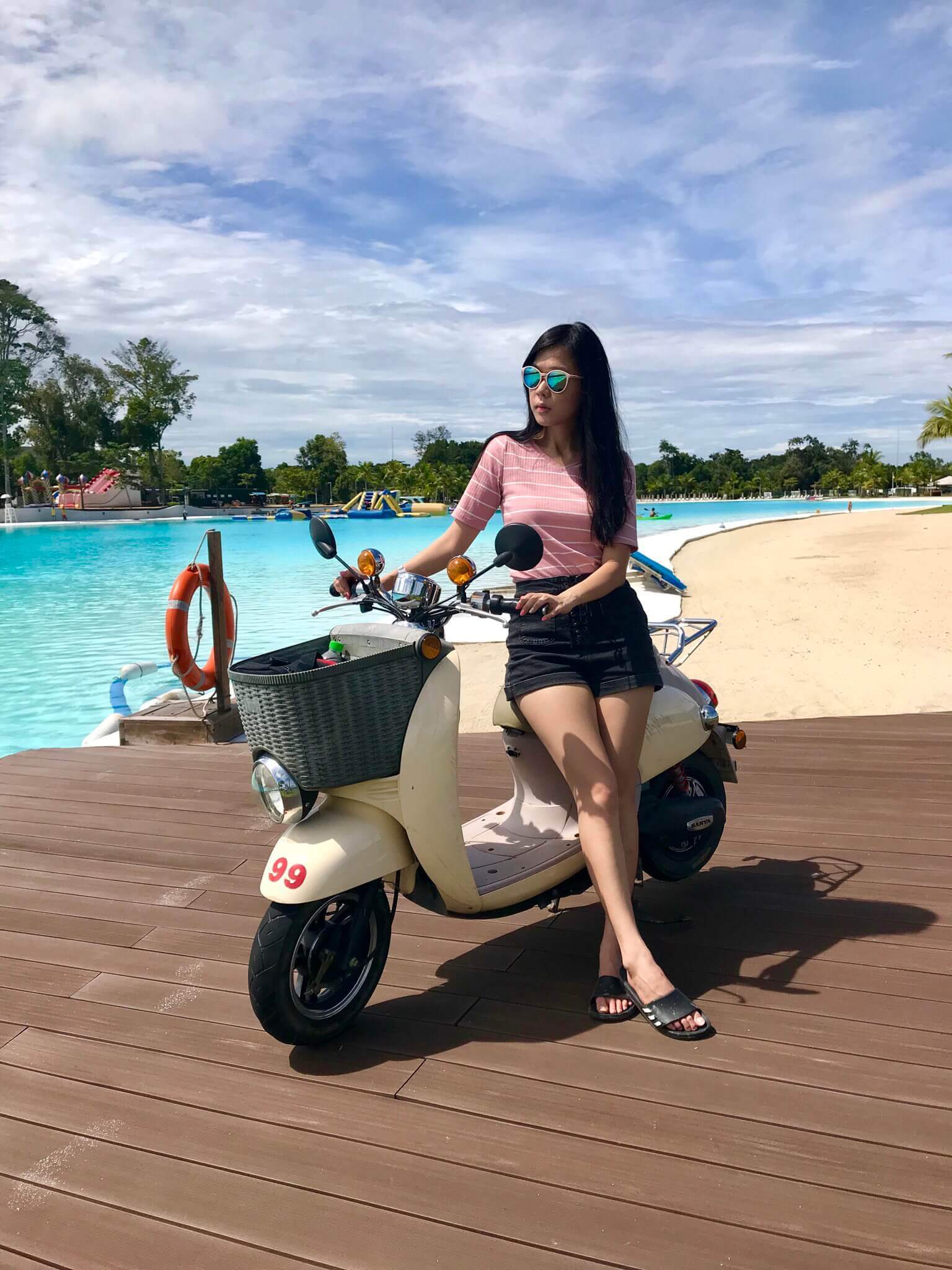 ...and many more!
---
Things to Note
Each tent can accommodate up to a maximum of 4 people including children/infant. Each child must be assigned to a bed.
Check-In Time is at 3 pm whereas Check-Out Time is at 12 pm. Should you arrive at the resort early, early check-in is subject to availability.
A Room Deposit of IDR 500,000 per room per night is to be paid upon check-in.
What are you waiting for? Where is your next vacation? Natra Bintan (The Canopi) of course!
---
Plan a wonderful weekend with us! Call our hotline 6358 4231 or send us a WhatsApp us at +65 9852 3592.
Facebook | Instagram | Telegram

WeekendGoWhere Product | Travel the World, One Weekend at a Time!
WeekendGoWhere Singapore is a Singapore Tourism Board (STB) certified travel agency. We provide you with the BEST discounts for Attractions, Cruises, and Travel Packages.
2020-01-31 13:15:28

Thanks Jamie from # weekendgowheresg for helping to book my wonderful trip to the canopi bintan. We had a great time. Thanks Jamie.

Debbie Tan

2020-01-02 19:39:08

affordable and great deal!!

Gab Elisha Anciro

2019-12-29 01:21:07

Extremely patient, knowledgeable and polite travel consultant Eunice Cheong who helped me book my stay at Natra Bintan. Even entertained my non Natra questions and shared personal experiences to help me make my decisions. Quoted me 1001 options because I asked for them, and cheerfully did so. Thumbs up!!

Cheong Sook Mei

2019-11-05 05:23:12

Hui Woon was my consultant and was very helpful with all the qns i asked It was easy and i enjoyed my stay at Natra Resort Bintan. My husband liked how the resort welcomed him with a birthday message! Overall, would def recommend my family + friends to use weekendgowhere for future holidays!

S.H

2019-11-04 00:10:44

I wanted to take this opportunity to give Daniel, our personal travel consultant compliments on the entire experience, absolutely flawless from inception, confirmation, final reminder to ensure we had our passports etc. We were travelling as a family with 2 adults and 2 kids (aged 7 and 10) and had an amazing time and enjoyed our stay at the Natra. Can I just say how friendly all staff at the resort were which made our stay awesome. With plenty of activities on offer it was hard to leave.

Jelte Waardenburg

2019-10-24 13:59:48

My wife & myself had booked a 3 days 2 nights stay at Natra, Tribute Portfolio at Bintan via our sales consultant Hui Woon. She is very friendly, patience & very accommodating to our request. This is our 2nd time booking with her. Her service is awesome, even reminded us before our cruise & now to Bintan. Her after-sales customer service exceed our expectation. It was a wonderful experience from the sales consultant till we check-out. The staff here is very friendly. There is alot of activities can be done at the Activity Centre. We would highly recommend for those who would like a glamping experience at the resort.

Muhammad Sabree

2019-09-28 12:16:05

recently go to natra bintan. Resort was great with biggest swimming pool. there are alot of water activities and also on land. staffs there were extremely friendly and nice food there too. I also take this opportunity to thank jamie and her colleague for all the arrangement to make my trip to and fro a pleasant one.

Tan Raymond

2019-09-25 22:19:10

Thanks to Mindy! Hassle free booking and very good service! Keep it up! We had awesome anniversary celebration, my husband liked it! We stayed at Nantra bintan "canopi" nice place and food are also good.

Michelle Faypon-Villegas

2019-09-15 21:39:48

My family had a wonderful experience at the Natra Bintan (The Canopi), our first short trip booked thru Weekend Go Where Singapore! It's also our first time engaged with an travel agency. They provided us with great service, pleasant communication and hassle-free arrangements. We're very pleased and will definitely book our next trip with them.

Joanne Chew

2019-09-14 16:45:52

Jaime is awesome! in fact, from our very first trip to Canopi, Bintan. She has helped arrange my other trips too, including the next one for my parents at the end of this month. Thank u so much!

Asmaroyanie Shaffie

2019-09-12 21:10:53

Jamie is our agent in charge for our stay in Canopi. She is very helpful and quick in response. She even tried to assist to get us the Emerald seats due to last minute request (few days before departure). I really appreciate her assistance and her patience during this period

Joleen Tan

2019-08-31 14:09:48

smooth transaction with the help of their agent Natalie. She answered all my queries. Enjoyed the canopi bintan without any hassle. thank you

Lorraine Juan

2019-08-26 11:03:41

Highly Recommend!! I booked a 2D1N The Canopi Natra Bintan. My personal travel consultant, Vonnie, is extreme helpful and patience. Smooth transaction, reliable and responsive.

MeiJia Goh

2019-08-13 20:00:39

I've been to canopi bintan resort with my family, which is now called Natra Bintan, a tribute portfolio resort. Jamie was our personal consultant from weekend go where Singapore. The transaction was very smooth and easy. Jamie was available on watsap whenever needed, even during odd hours he would respond promptly. Everything went as per planned. we had a lovely and relaxing holiday without any hassle. I would highly recommend their service.

Yamini Parsa Avatapalli

2019-07-30 11:31:36

Thank you for making our trip to The Canopi a memorable one! Excellent service by sales consultant Eunice from the start

Genevieve Lim

2019-07-25 11:10:52

Booked a 2D1N at Canopi with Weekend Go Where, and was attended to by Oliver who was patient, helpful with our queries, and went beyond working hours to respond to us. Overall a very smooth and efficient booking process and will definitely look forward to more trip bookings with WGW.

Anch Yap

2019-07-17 03:51:44

we have booked 2D1N at Canopi, Safari Tent. My 1st time doing online booking with an online agency! i have many doubts but my personal travel consultant Wen Xing clear them with her friendliness, patients and professional product knowledge. The arrangement was very smooth and clear, very easy for 1st timer like me to understand. all documents received via email and was within the time frame as promised, no time wasted on queues. Will highly recommend.

Qx Qx

2019-07-15 03:49:43

I have book a canopi @ bintan package through Daniel, and he's reply is almost instantaneous and he is very helpful. I believe I will book again through him in the near future!

Tan Dewei

2019-07-06 12:48:13

Great and enjoyable trip we had at Canopi Bintan. Thank you Candy for your assistance!

Cheryl Tanst

2019-06-22 09:50:08

Highly recommended! Thanks a lot to our consultant, Jerin. We enjoyed our stay at the canopi and look forward to booking our next trip with WGW again

KQ Piano
Write a review
In order to write a review, you must first
login
.