Click the buttons below to Chat With Us!
---
Highlights
A Private Island to enjoy the quiet and away from the hustle and bustle of the city life
Clean and sandy beach
Family-Friendly Facilities
Awesome Food awaits you
Tons of Activities for YOU!
Price for Package
Overwater Villa
3D2N from SGD 730 / person ONLY!
* For Subsequent Nights and other Room Types, please contact us for the prices.
* Price is subject to change depending on the travel date and number of travellers.
Package Includes
Accommodation at Telunas Private Island
Daily Breakfast, Lunch and Dinner
Two-Way Ferry Tickets
Two-Way Domestic Ferry Transfer to Telunas (approximately around 70-90 minutes)
* Package Excludes - Ferry Tex of SGD29 / pax, Personal Insurance, Porterage Fee, Visa Fee & All expense of purely personal nature.
---
Located in Batam, Telunas Private Island Resorts is a peaceful escape from life's many distractions. Taking inspiration from surrounding Malay construction, Telunas Private Island Resort is built entirely over water emphasizing expansive views, thatched roofs, and the natural ocean breezes. With groups and large families in mind, it has an overwater community feel, perfect for those seeking a simple weekend getaway.
---
Room Types
Overwater Villas
Room Size: 90sqm | Bed Arrangement: 1 King and 2 Twins | Capacity: 5 persons | Balcony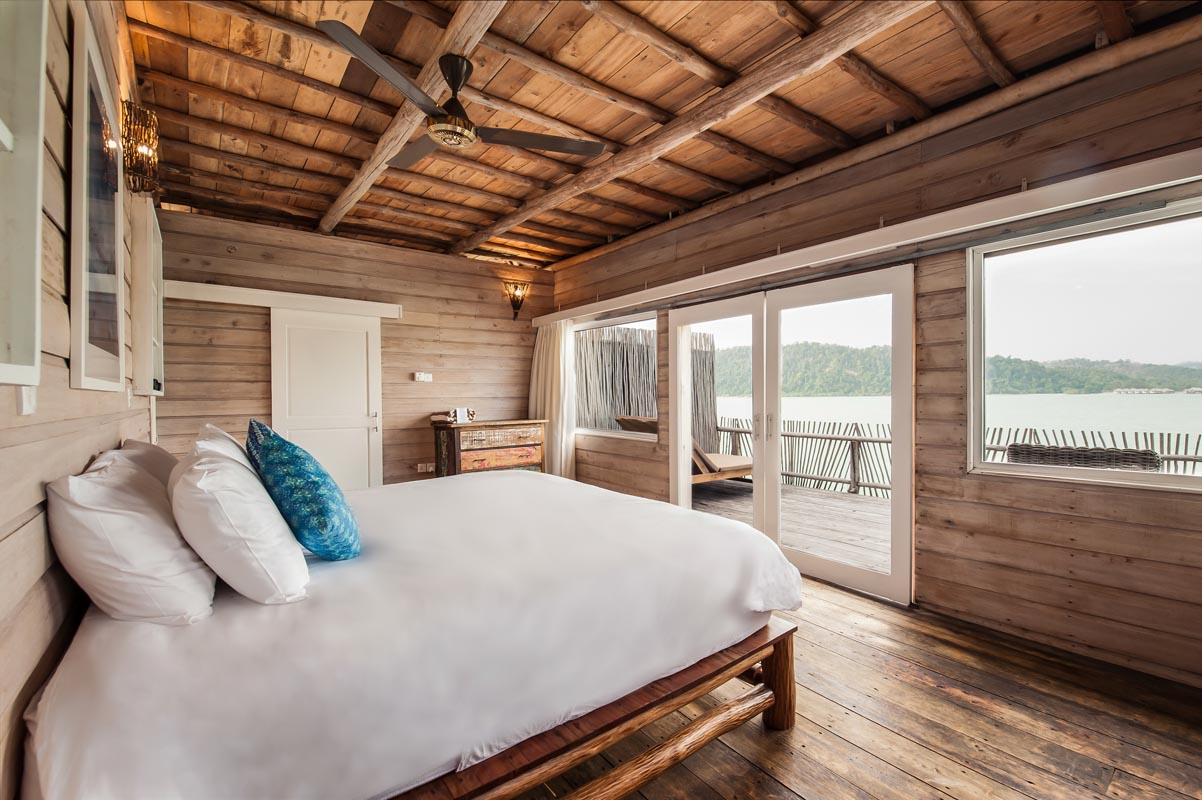 Other Room Amenities:
Oversized master bedroom facing the sea with king bed
Balcony furniture features double chaise lounge
Spacious living room
Kids loft with two twin beds
Distinctive furnishings are made from upcycled wooden boats
180-degree views
Natural cooling from the sea breeze
Ceiling fans
Complimentary in-room coffee/ tea/ hot chocolate
Hot and cold water dispenser
In-room bath amenities plus after-tanning and massage essential oils
Baby cot/ extra mattress available
---
Dining
A la Carte Dining
The delightful cuisine at Telunas Private Island embraces a diverse blend of traditional Indonesian and Western cultural influences. Complete with a breathtaking view, this delightful tastes will quickly bring you to a place of contentment and peace.
Special Dining Options
There are special dining options available if you prefer something more memorable.
Candlelight Dinner
A magical evening with an exclusive multi-course menu.
Village Lunch
Venture by boat to a nearby village to experience an authentic island meal.
Poolside Dinner Gala
Rent the entire island and work with Chef Surya to decide what you'd like served for your family and friends by the pool.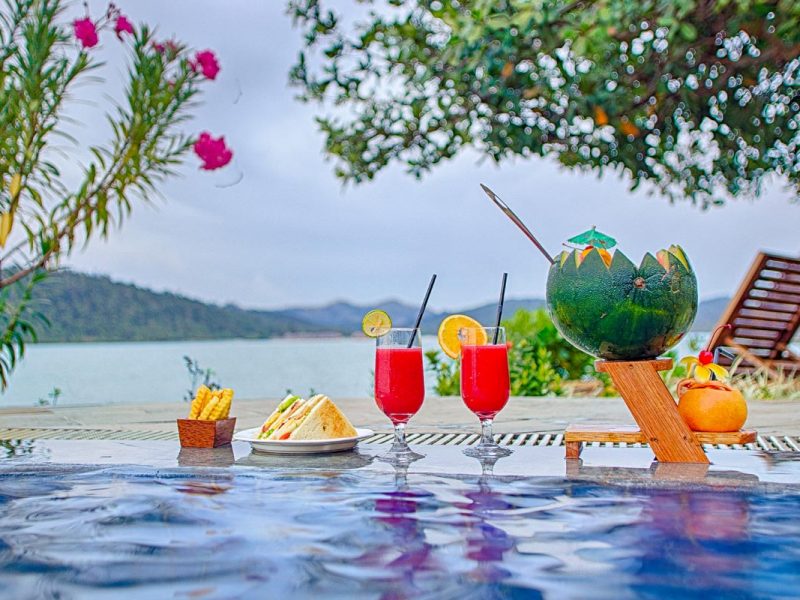 ---
Resort Facilities
SPA
Freshwater Infinity Pool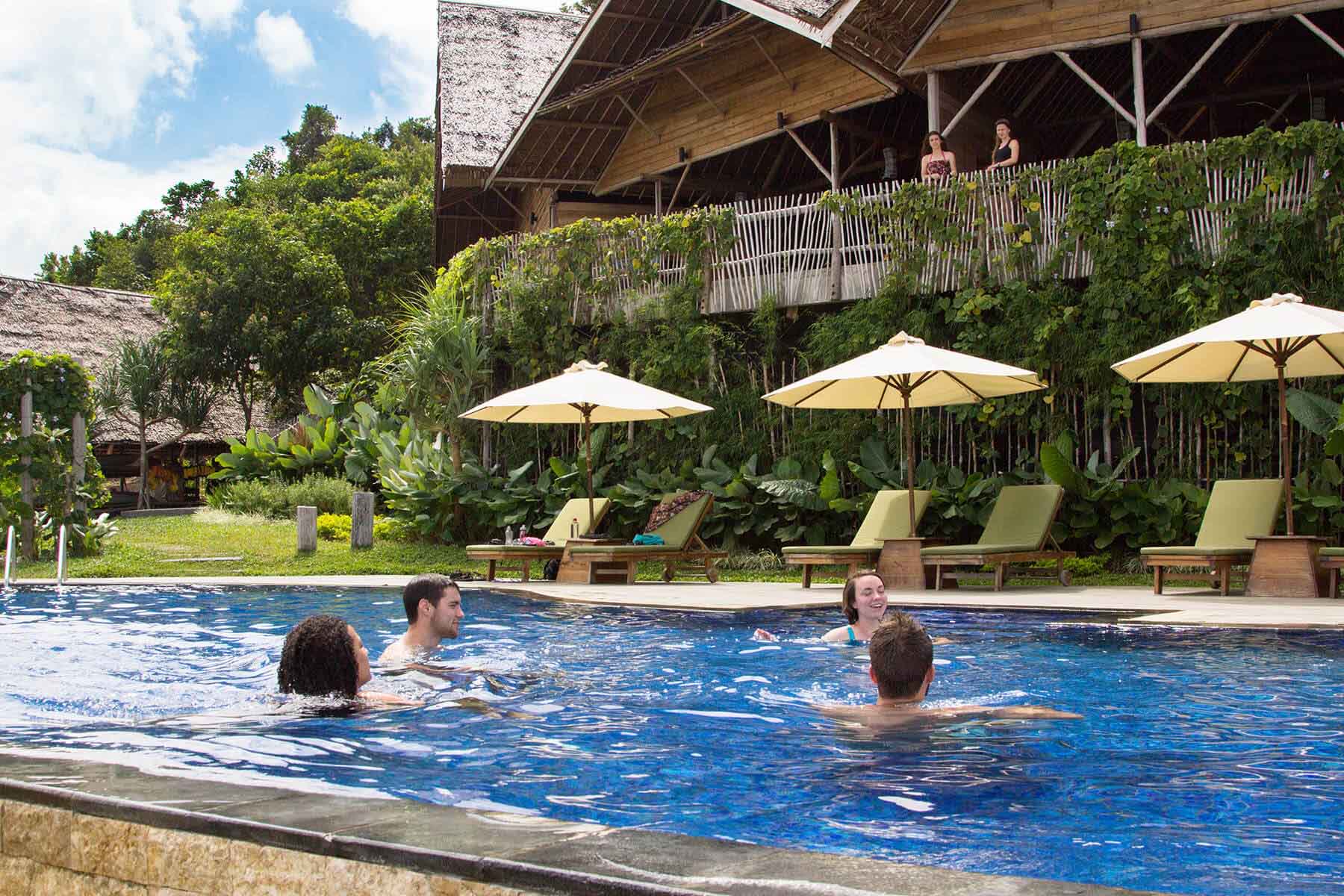 Beach At Private Island
Meeting Rooms
Other Resort Facilities:
Kids' Club
Poolside Bar
Game Cove with Ping pong, darts and more
Share-a-book Library
---
Activities
Stand Up Paddleboarding
Jungle Waterfall Hike
Deck Jumping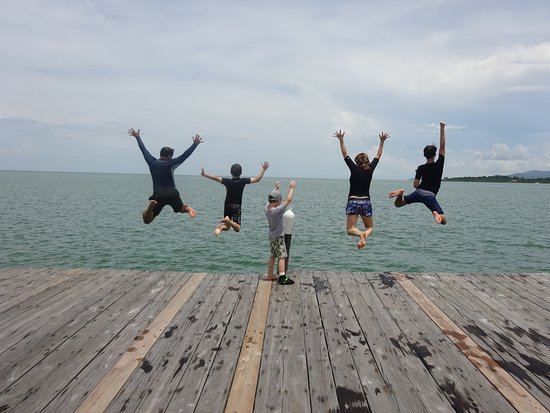 Other Activities:
Sea Kayaking
Nature Walk
Ping Pong
Beach Games
Fishing
Fishing on the Boat
Island Tour
Cooking Demo
Local Village Tour
---
Things to Note
Check-in time is at 2pm. For morning departure, check-out time is 9am whereas, for late departure (2pm boat from Telunas), check-out time is 11am.
Travel adaptors are not required as they use the same 3-pin plug as Singapore.
Board your ferry at Harbourfront Ferry Terminal and arrive at Sekupang Ferry Terminal.
Guests are met outside immigration by Telunas staff and escorted to the local ferry terminal to take Telunas ferry to the resort.
Ferry ride to Telunas is around 70-90 minutes.
Kids below 5 years old can stay for free (transport, room and dining), excluding the Singapore-Batam-Singapore ferry charges.
Telunas Private Island guests can go to Telunas Beach (free transfer available twice a day). The first transfer is after breakfast and will be back to Telunas Private Island before lunch. The second transfer is after lunch and will be back before dinner time.
Telunas Private Island guests can enjoy free activities at Telunas Beach Resort such as beach sports, hike to low rope course and etc.
Resort do not offer any electronics such as TV, video player and Wi-Fi.
For guests with data roaming, signal might not be reliable due to the remote location.
At Telunas, they receive payment by cash (IDR only) and CC (Visa, MasterCard and AMEX).
What are you waiting for? Where is your next vacation? Telunas Private Island Resorts, Batam of course!
---
Plan a wonderful weekend with us! Call our hotline 6358 4231 or send us a WhatsApp us at +65 9457 2440.
Facebook | Instagram | Telegram

WeekendGoWhere Product | Travel the World, One Weekend at a Time!
WeekendGoWhere Singapore is a Singapore Tourism Board (STB) certified travel agency. We provide you with the BEST discounts for Attractions, Cruises, and Travel Packages.
2019-08-24 05:58:22

Great service. Totally relaxing weekend. There is nothing the staff won't do for you and always with a smile. Food was excellent. Massages a must. On the return trip we were able to see dolphins and even the rare Indo Pacific Dolphin. We will return

Jason

2019-08-21 20:02:04

As a Singapore resident, escaping to a quiet, private, peaceful haven such as Telunas Private Island is a blessing. The setting is beautiful and the entire island is accessible to guests. The rooms/villas are substantial in size, including the beautiful terraces overlooking the ocean. An outstanding feature, though, is the staff. Friendly, family-like, hard working staff who are always smiling and eager to make your stay a wonderful and happy experience.

Benjamin

2019-08-14 07:24:09

I spent a wonderful, relaxing three days at Telunas Private Island Resort. The villa I stayed in was built over the water and featured a king-size bed in a room with french doors that opened onto a balcony with a great view.

Lee

2019-07-15 20:17:38

We really enjoyed our trip to Telunas Private Island. Everything from meals to activities were well planned by the staff, and they are super accommodating to make sure guests can do all of the activities they want. We loved the local village tour, sea kayaking, low ropes, and fishing. Can't wait to go back!

Dannie

2019-06-17 21:53:06

My family has had a wonderful time at this beautiful island - one that's so beautiful yet inclusive because of all the staffs there. My children in particular enjoy the warm welcome & company by the staffs!

Beverly

2019-06-14 17:56:06

Telunas was an excelent choice for our 4 days litlle escape from Singapore. Tha staff is very friendly, the suites are nicely decorated, furniture and a lot of other things are made of sustainable materials, really nice pool area with a bar, one of the best Spas I have ever tried! Activities for kids and for a whole family.

Andy

2019-06-11 09:19:28

We had a nice 4 night getaway at the Telunas Private Island Resort. The rooms were comfortable and clean with a nice setting. We love the open air spa with pretty good massages. Staff was really good overall, extremely friendly and smiley. My little girl enjoyed her time at the Kids Club while we adults had fun on the water.

Brian

2019-06-03 12:46:33

Beautiful resort,very comfort villa and great food- particularly Indonesian dishes. Staff were all lovely and really added to our enjoyment. Overall an incredibly relaxing stay and we are already planning to return.

Panny

2019-05-21 23:42:56

Telunas is so much better in person. The food was amazing, my wife and i are still daydreaming about some of the meals that we had. The staff were also super friendly and very helpful. There was also much more to do, in terms of activities, than we were aware of. We recommend this place to anyone! Families, singles and couples alike.

Teng Cheng Loh

2019-05-15 10:05:24

Loved our time at Telunas, so much beauty in such a small place. Clean, great food, even better service and people. 10/10 would recommend. The low ropes course is a big highlight for kids, and the platforms for jumping are tons of fun.

Endrik

2019-05-09 07:31:27

My stay has been made perfect from the moment I booked to my check out. A stunning place, beautiful facilities and wonderful people. The attention to sustainability as well as the genuine interest on people,makes Telunas stay special and unique.

Yap Chee Eng

2019-04-15 01:17:03

Telunas is a fantastic pick for a family holiday! We took our two kids (a baby and a 4 year old) and it was sublimely stress free. Everything is included with your stay, and being a small island its super easy to get around, do activities, and is very safe. Our whole family enjoyed this holiday

Elaine

2019-04-10 10:40:37

I give the property 5 stars because it's a truly beautiful place, quiet, relaxing, with attentive and friendly staff.

Penny Lai

2019-03-29 03:13:41

The activities in the mornings were super fun! We enjoyed every one of them! The best was the hiking/tree climbing at the Beach Resort. We spent one hour enjoying the beach there and we jumped from the nice pier at the front. Beautiful resort! The only suggestions we have are: at least at one place in the resort to provide WiFi. My husband missed a meeting because the signal at the island was very weak. We bought the data package but was very weak in the island.

Lahlia

2019-03-20 19:48:45

The villas are spacious and very rustic. The view is breathtaking. We slept with all the windows opened and the fan on. Woke up 5:30am and our daughters were enjoying the sunrise from our balcony. The staff were amazing! The best part of our stay there.

Mandy

2019-03-13 04:43:47

Just spent a short 3D/2N stay at Telunas. This is our second time and it just keeps getting better. The Villas are rustic charming and comfortable. The food is amazing with choices to suit everyone. The staff are what makes this island so memorable, nothing is too difficult and everything is done with enthusiasm and a smile. This is the type of getaway where you choose whether you want to do activities or simply relax and enjoy the pool or beach. With no wifi it is a great escape. The Day spa and massage as always fantastic and relaxing with the beds in huts over the water.

Jerry

2019-03-04 23:06:52

Parents can actually relax and let your kids run around . We usually keep a hawk eye on our toddler but here she's never too far. A or two staff is always around to help keep an eye on them and help entertain them. For once we can have and finish our dinner as a couple, chill by the pool as ours mingle and plays with other kids in and around the pool.

Jiayi

2019-02-28 06:29:22

All the staff are helpful, hospitable and friendly. They made us feel at home and made sure we are well taken care of.

Derek
Write a review
In order to write a review, you must first
login
.