Click the buttons below to Chat With Us via
Whatsapp / Call / Facebook Messenger
---
Spice up your June holidays with WeekendGoWhere, as we explore the lush tropical islands of Okinawa. Embark on exciting shore excursions, tuck into an authentic Japanese meal and relax onboard the Luxurious World Dream Cruise Ship. Explore the best of Okinawa in Naha and Miyakojima. Stroll the streets of Kokusaidori where you can shop to your heart's content, and treat yourself to the world-famous melt-in-your-mouth Japanese beef. At Naha, you can also indulge in the freshest tuna at an authentic Izakaya pub restaurant. Blessed with the best beaches in Japan, visit Miyakojima where you can drop by their underwater observation facility or set foot in the most pristine beaches you have ever seen!
Departure Date: 1 June 2019, Saturday
Return Date: 8 June 2019, Saturday
(Cr: Wikimedia Commons)
[Package Includes]
5 Nights Onboard World Dream (Meals and Accommodation Included)
2 FREE Nights in Hong Kong (Accommodation Included)
2 Shore Excursions (Naha & Miyakojima)
Exclusive Group Dinners
Two-Way Flight Tickets by Cathay Pacific + Transfers
Explore Okinawa with Mediacorp Actors
[Package Excludes]
Personal Insurance
VISA (if required)
Airport Tax
Port Taxes
Tipping
[Itinerary]
Day
Time
Itinerary

1 Jun

Sat

6 am
8 am
12 pm
Group Check In at Changi Airport
Fly from Singapore to Hong Kong by Cathay Pacific - CX 710
Arrive in Hong Kong & transfer to your Hotel. Free Day.

2 Jun

Sun

9 am
10 am
1 pm
6.30pm
7 pm
Check Out of Hotel and transfer to Kai Tak Cruise Terminal
Check in to World Dream Cruise
Cruise departs from Hong Kong
Arrive at Guangzhou (Transit Stop - Cannot disembark)
Group Dinner

3 Jun

Mon

7 pm
Group Dinner

4 Jun

Tue

4 pm (5 pm)
11.59am (1 am)
Arrive at Naha,

the

largest

of

Okinawa

Prefecture


Cruise Departs

5 Jun

Wed

11 am (12 pm)
9pm (10pm)
Arrive at Miyakojima and visit some of Okinawa's Best Beaches
Cruise Departs

6 Jun

Thu

-
Cruising Day

7 Jun

Fri

8.30am
12 pm
5.30pm
Arrive at Guangzhou (Transit Stop - Cannot disembark)
Cruise Departs
Arrive at Kai Tak Cruise Terminal & transfer to your Hotel. Free Day.

8 Jun

Sat

12 pm
12.30 pm
3.20 pm
7.10 pm
Check Out of Hotel
Transfer to Airport
Depart from Hong Kong to Singapore by Cathay Pacific - CX 635
Arrive at Singapore Changi Airport
Miyakojima
The coastline of Miyakojima differs across the island. Given its abundant nature, white sand beaches, translucent waters and colourful coral reefs, it is no wonder that this island is a popular destination for snorkelling and diving. Come and explore its mysterious beauty with us!
Northern Miyakojima Island Tour
Ikema Bridge & Island - Connecting the islands of Miyako and Ikema, this 1,425-metre long bridge costs JPY 9.9 billion to construct. Take in the sights of the blue sky, white clouds and of course, the emerald green ocean water.
(Cr: visitokinawa.jp)
(Cr: visitokinawa.jp)
(Cr: visitokinawa.jp)
Yukishio Saltworks - The Yukishio salt was awarded a place in the Guinness Book of World Records in 2000 for containing the widest variety of minerals. Over here, you can learn about the various uses of the Yukishio salt. Don't forget to try out their ice-cream as well!
(Cr: travel.navitime.com )
Miyakojima Marine Park - Descend a flight of stairs and arrive at a tunnel-shaped Underwater Observation Facility, where you can feast your eyes on the colourful schools tropical fish.
** Note: Miyakojima Marine Park is not recommended for guests with limited mobility or guests in wheelchairs. A nearby alternative location is available for you to enjoy photo taking.
(Cr: tripadvisor.com.sg)
Meal - Savour the Native Flavours of Okinawa (Set Menu).
AEON MaxValu - Spend your free time at a popular shopping destination for locals and visitors.
Eastern Miyakojima Island Tour
Maehama Beach - Ranked as one of Japan's best beaches, Maehama Beach is a treat to your eyes because of its stunning white sand and emerald green waters which makes it the perfect tropical paradise. Stretching a distance of seven kilometres, the coast is suitable for swimming and water sports.
​​
(Cr: Visit Okinawa Japan)
Higashi Henna Cape - The 2-kilometres long coastline is surrounded by deep blue oceans and beautiful Easter Lilies bloom here every spring. From this point, you can admire the views of the East China Sea to the north and the Pacific Ocean to the south. Higashi-hennazaki Cape is one of Japan's top 100 scenic spots. Surrounded by cliffs, there is a snow-white lighthouse where you can get a 360-degree panorama view from its observation deck.
(Cr: nanseirakuen.com)
(Cr: ja.wikipedia.org )
(Cr: tabijikan.com )
Shigira Lift Ocean Sky - Hop on a one-way cable car ride on this 283-metre long attraction which was recently opened in April 2016. Stretch your legs as you enjoy the spectacular views of the beautiful blue seas and the surrounding nature.
(Cr: tripadvisor.com.sg)
Meal - Savour the Native Flavours of Okinawa (Set Menu).
AEON MaxValu - Spend your free time at a popular shopping destination for locals and visitors.
** Notes: For Shigira Lift Ocean Sky, children below the age of 3 are not allowed to board the cable car. Children must also be accompanied by an adult. In the event of poor weather and/or ongoing maintenance, the Shigira Lift Ocean Sky trip will be replaced with a trip to the Ueno German Culture Village, a theme park which inter-mixes German culture with the beauty of Miyako Island.
Other Excursions
Below is the list of excursions that you can choose from!
Northern Miyakojima Island Tour (WDHRR01WM)
Eastern Miyakojima Island Tour (WDHRR03WM)
Southern Miyakojima Island Tour (WDHRR02WM)
Irabu Island Tour (WDHRR04WM)
Snorkelling in Miyakojima (WDHRR05NM)
Miyakojima Shisa Painting Tour (WDHRR12NM)
Miyakojima Transfer Service (WDHRR99NM)
Naha
Okinawan culture unfolds at every turn in the island capital, from your footsteps circling its ancient royal palace and meandering down the popular Kokusaidori shopping street, to your tastebuds savouring traditional Agu pork shabu-shabu and acclaimed Ishigaki and Motubu beef. Naha, a bustling city serving as Okinawa's gateway, is rich with valuable historical heritage sites. Come with us to experience the enchanting traditional entertainment and delicious local cuisine, which are closely connected to Okinawa's unique history, culture, customs, and the arts.
Okinawa Taste: From Tuna to Sushi
Shurijo Castle - Constructed during the period of the Ryukyu Kingdom, Shurijo Castle was designated as a UNESCO World Heritage Site in December 2000. The name Shuri originated from the name of the former capital of the Ryukyu Kingdom.
**Note: You will only be visiting the external facade of the castle and this tour excludes admission into the castle.
(Cr: Wikimedia Commons)
(Cr: Carmine.shot )
Tuna Slicing Show and Japanese-Style Set Meal - Want to experience an authentic Japanese meal? Izakaya is a Japanese tavern or pub, where local people enjoy eating and drinking with friends. The Japanese-style set meal will be served with Chicken Nanban, Maguro Tempura, Fresh Tuna and Miso Soup.
(Cr: Jonathan Forage)
(Cr: maksampaio0 )
Kokusaidori - Get your shopping fix at Naha's main shopping street. Packed with countless souvenir shops, local restaurants and trendy fashion boutiques, you'll never run out of things to buy here!
(Cr: Wikimedia Commons)
Manzamo Scenery Tour
Cape Manzamo - Regarded as one of Okinawa's designated scenic spots, Cape Manzamo offers a stunning view of the ocean, with its coral reefs and undisturbed nature. The cliff is also famous for a rock that looks like an elephant's trunk.
(Cr: Wikimedia Commons)
(Cr: kadena.af.mil)
Meal - Savour the Native Flavours of Okinawa (Set Menu).
Kokusaidori - Get your shopping fix at Naha's main shopping street. Packed with countless souvenir shops, local restaurants and trendy fashion boutiques, you'll never run out of things to buy here!
(Cr: Wikimedia Commons )
Other Excursions
Below is the list of excursions you can choose from!
Manzamo Scenery Tour (WDNAH10WM)
Okinawa Taste: From Tuna to Sushi (WDNAH06WM)
Bespoke Journey – Naha (WDNAH80)
Highlights of Naha (WDNAH01WM)
Shopping and Okinawa BBQ Dinner (WDNAH02WM)
Ishigaki & Motobu Beef Gourmet Tour (WDNAH04WM)
Shopping and Okinawa Agu Pork Premium Food Tour (WDNAH05WM)
Umikaji Terrace & Shopping (WDNAH07NM)
American Village in Okinawa (WDNAH08NM)
Okinawa Cultural Immersion Tour (WDNAH09NM)
Naha One way Transfer (WDNAH99OW)
[Room Types]
Balcony Stateroom
There is perhaps no greater pleasure than a private stateroom balcony – after all, the ocean is the main highlight of the cruise, isn't it? Relax in incredible comfort when you return from your busy adventures on shore. Exhale, relax and enjoy the stylish setting where you can revel in the endless ocean view.
Size (SQM): over 20
Capacity: 2 - 4 pax
Amenities:
Queen-Size Bed
Sleeper Single Sofa Bed (Optional)
Ceiling Pullman Bed (Optional)
Private Balcony
Flat-Panel Television
Inter-Connecting and Adjoining Staterooms Available
Interior Stateroom
You'll be cocooned in calm serenity in an Interior Stateroom, with space designed for comfort and convenience.
Size (SQM): over 13
Capacity: 2 - 4 pax

Amenities:
Beds
Sofabed
Ceiling Pullman bed (optional) available for up to the Third Berth
Flat-Panel Television
Inter-Connecting Rooms Available
[Facilities]
Waterslide Park
Speed down the slippery slides that tower high above the ocean – there's no other thrill like it! Choose from six different and unique slides – ranging from easy-going chutes for families to heart-racing steep inclines for daredevils. These watery slopes will keep you grinning from ear to ear for days.
Rock Climbing Wall
Challenge your family and friends to see who can scale our energy-burning rock climbing wall in the shortest possible time.
**Guests are advised to bring along their own sports shoes to fully enjoy this facility.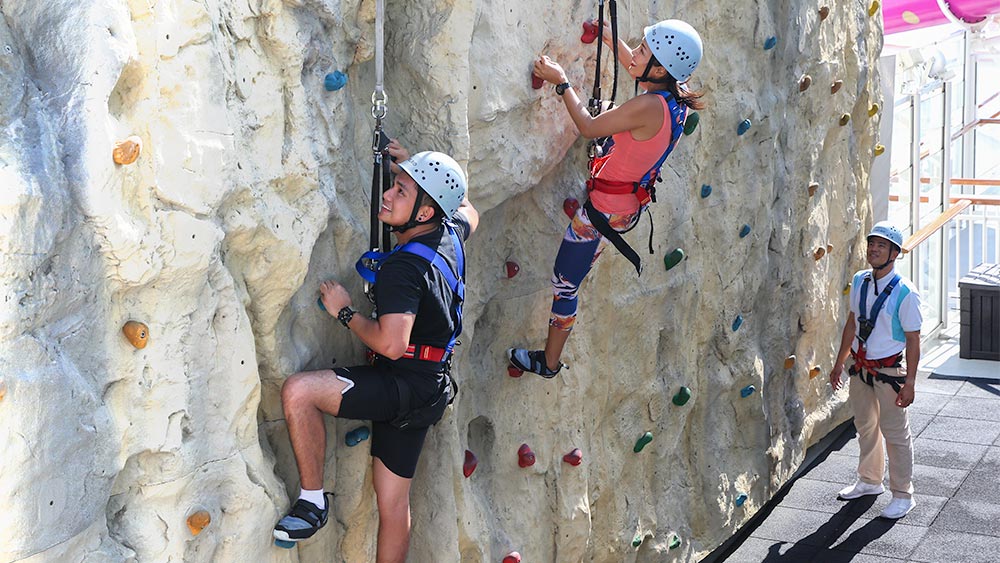 Mini-Golf
Take your family out for a round on our nine-hole putting course, complete with a beautiful ocean backdrop.
**Guests are advised to bring along their own sports shoes to fully enjoy this facility.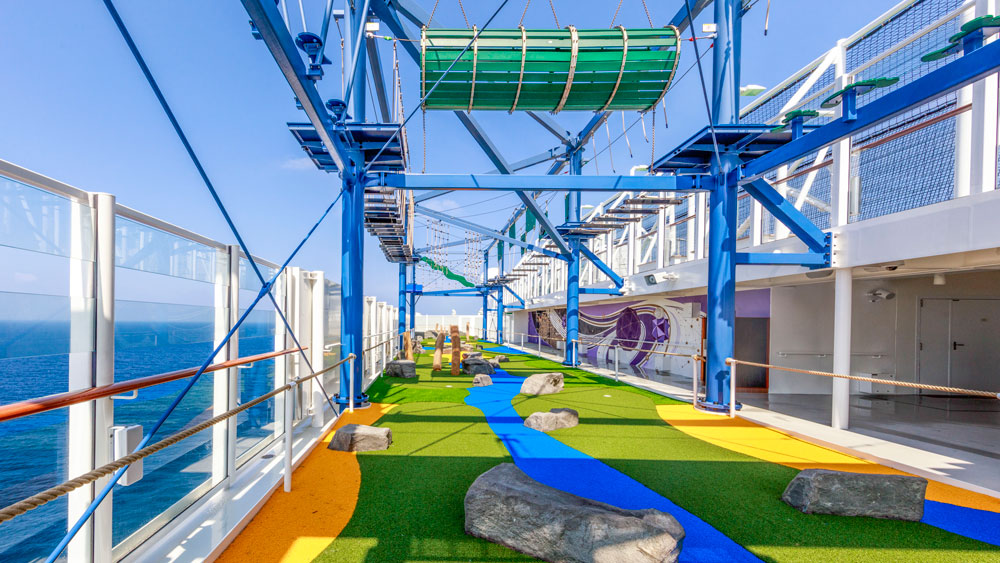 Sportsplex
This large outdoor court hosts everything from old-school basketball and tennis games to kooky and challenging bubble soccer, giant snooker and archery. It's a fantasy playground for both kids and those who are still young at heart. Let your inner-child shine!
**Guests are advised to bring along their own sports shoes to fully enjoy this facility.
Arcade
If you're a video game fanatic, you will be amazed at all the latest arcade games here. Just swipe your access card and you're guaranteed an action-packed day. Ready? Let's go!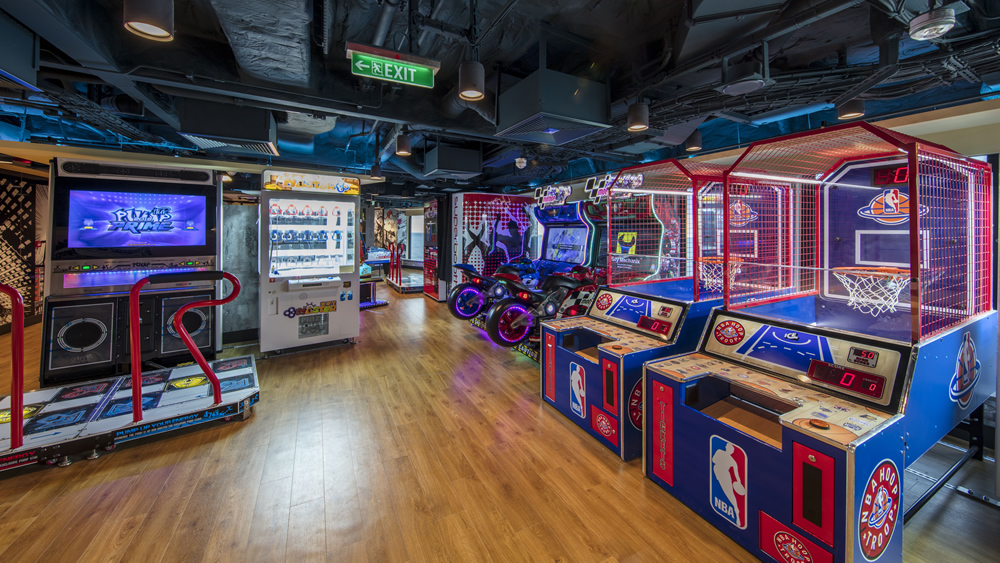 Zouk Beach Club
Zouk Beach Club is a one-of-a-kind outdoor beach club at sea where you can spend nights under a blanket of stars watching blockbuster movies on a giant LED screen. Be dazzled by the nighttime clubbing experience on the weekends as well!
Esports Arena
If you're an e-gamer, score your biggest adrenaline rush yet on World Dream, home to the world's first permanent eSports facility at sea. Compete in battles of skill, speed, strength, strategy and tactics, as a solo player or as a part of a team. Leading-edge, high-performance graphics card technology produces a superior gaming experience.
ESC Experience Lab
Immerse yourself in pulse-racing, awe-inspiring virtual reality on World Dream with its state-of-the-art VR experience. Ride a rollercoaster, soar over mountains, or puzzle your way through a mind-bending maze, all within this very ship.
Crystal Life Spa
Pick from our long list of traditional and progressive treatments, ranging from rejuvenating Swedish to relaxing Himalayan salt stone; expert facials, scrubs and wraps; and optimum-results therapies. Whether it's high-touch or high-tech, our customised treatments will leave you refreshed, uplifted and glowing.

Crystal Life Asian Spa
Apart from being the largest ocean-going reflexology spa, our "Dream Team" of therapists is known throughout the high seas for their exceptional skills. Flop into one of our many comfy and oversized sofas in our Relaxation Lounge while you enjoy entertainment on your very own iPad.
Intense relaxation awaits you in our Thermal Lounge which features separate men's and ladies' vitality pools, sauna and steam rooms. Detox, de-stress and delight in this serene sanctuary!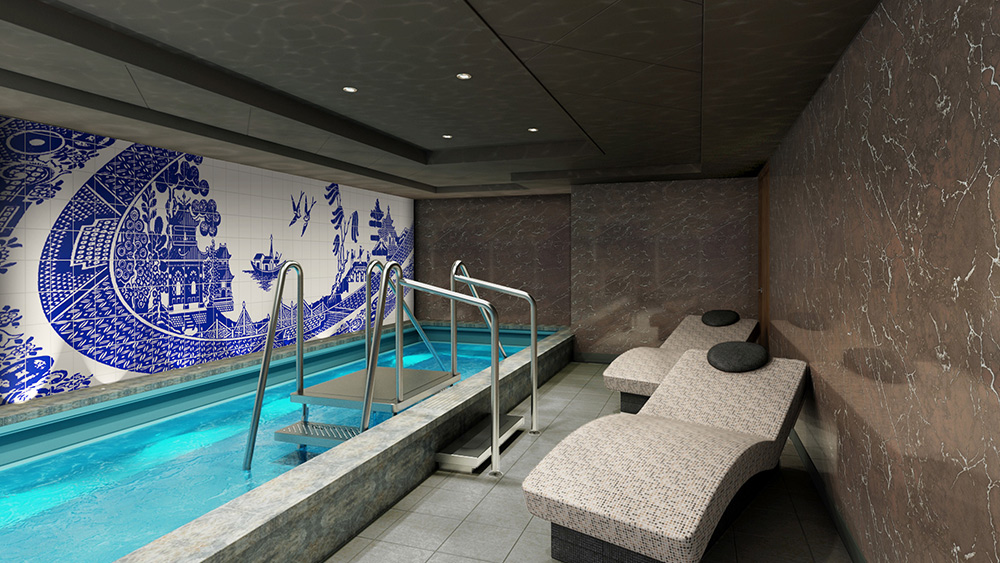 Crystal Life Fitness
Getting a workout is boring. That's why we provide you with an ocean-view at our 24-hour fitness centre. Here, we offer some of the latest, most innovative weight training and cardiovascular equipment. Plus, our team of personal trainers are always ready to aid you in your workout.
[Dining]
Should you have special dietary requests such as vegetarian or gluten-free, please request at time of booking your cruise or contact Restaurant Reservation Department when you are on board. Extra charges may apply, depending on your requirements.
Vegetarian Food – All restaurants onboard provide vegetarian options upon request.
Halal Food – Halal food is available onboard Genting Dream at a section of The Lido.
Indian Food (Vegetarian / Jain) – A special buffet section can be set-up for the group at The Lido for lunch and dinner service.
Chinese
Silk Road Chinese Restaurant
South East Asian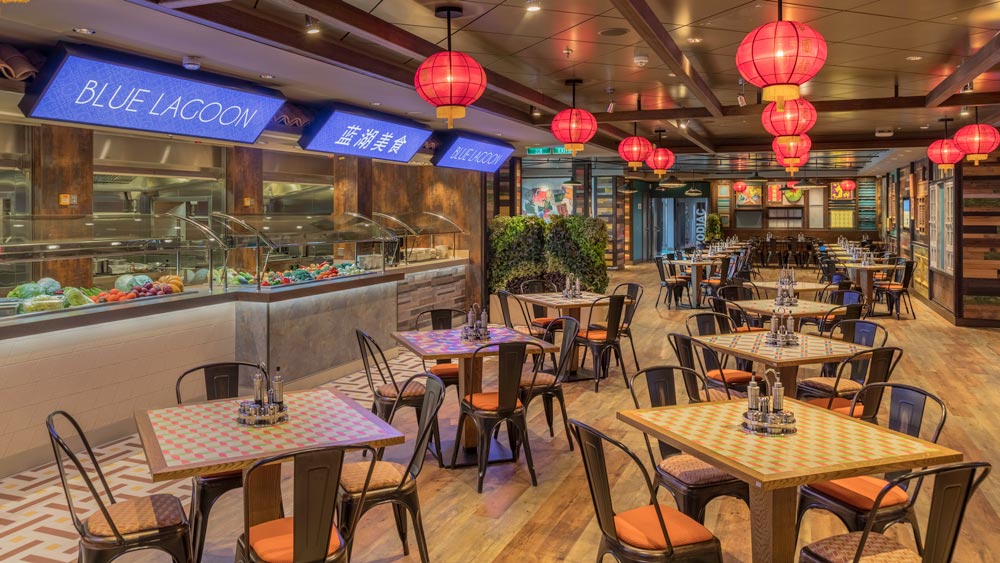 Japanese/Korean (Umi Uma)
International
Dessert/Snacks
[Price for Package]
| Cabin Category | 1st / 2nd Person | 3rd / 4th Person |
| --- | --- | --- |
| Balcony Stateroom | SGD 1,599 | SGD 1,499 |
| Interior Stateroom | SGD 1,399 | SGD 1,299 |
Departure Date: 1 June 2019, Saturday
Return Date: 8 June 2019, Saturday
**Fares shown are per person and include Flights, Hotels, Transfers and Shore Excursions, but exclude gratuity fee of HKD 550 per person (payable onboard), airport and port taxes of SGD 425 per person.
**Dream Cruises charges a per person gratuity as part of their cruise offering. The gratuity will be charged onboard to our guests' stateroom folio at the end of the cruise when the guest settles their onboard expenses. Gratuities charge policy is subject to change at any time. Click here for more information about gratuities.
[Things to Note]
What to Wear? When dining in a formal restaurant or when you are joining a welcome cocktail party, formal attire is required. Except for the above-mentioned occasions, casual wear is allowed!
What to Do? Daily updates will be put up around the cruise so you can refer to them for more information about the activities for the day! Another copy of the detailed itinerary will also be placed in your room by our crew members. Make sure to check them so that you won't miss out on anything!
How to Pay? When you are checking in, you can link your credit card to your room card. For every purchase you make onboard, you only need to show your room card. Payment will be automatically deducted from your credit card so there is no need to bring cash onboard. Our staff is not allowed to accept any tips from any of our guests. However, you can still reward them by leaving them positive feedbacks in the customer survey forms, which will contribute to their performance.
What Can I Bring Onboard? Food and drinks will be provided for free onboard the ship so you do not need to bring them on your own. Do not bring your own liquor up on the cruise as well!
This cruise will pick up passengers in Guangzhou after sailing out from Hong Kong, and drop off passengers in Guangzhou before sailing back to Hong Kong. Please note that passengers cruising from Hong Kong are not allowed to disembark in Guangzhou, and likewise, passengers cruising to Hong Kong are not allowed to disembark in Guangzhou.
Accommodation in Hong Kong will be of 4-Star or equivalent standards and it is subject to availability.
Shore excursions require a minimum number of participating guests and may be cancelled if there are insufficient participants.
All shore excursions are sold on a first come first served basis and have a maximum capacity. To avoid disappointment, guests are recommended to reserve shore excursions early.
Guests should monitor their physical conditions before the excursions because some shore excursions require long-distance walking.
Please be careful of personal belongings at all times in order to avoid thefts and robberies.
Please take extra care and caution when walking inside and outside the ports or during the shore excursions to prevent accidents.
Shore excursions are conducted by independent local tour operators and Dream Cruises is only an agent that sells their tickets. Dream Cruises (including its officers, employees and affiliates) will not be responsible for any acts of negligence, default or omission by the tour operators and/or any losses or damages suffered by the passenger related to the shore excursions.
Tour operators have the right to change the itineraries (places of visit, transportation modes, accommodation and meal arrangements etc.) due to operational needs, weather conditions and/or safety, comfort or enjoyment of the guests. Neither Dream Cruises nor the tour operators are liable for loss, delay, inconvenience, disappointment or expenses whatsoever incurred or suffered by the passenger in such circumstances.
Dream Cruises (including its officers, employees and affiliates) and tour operators are not liable for any loss, damages, claims, costs and expenses incurred and/or suffered by the passenger in relation to any unforeseen circumstances including threat of war, riot, disaster, acts of Gods (which includes but not limited to adverse weather condition, storm, tsunami, earthquake and/or typhoon), terrorist activity, fire, technical problem with transport, closure of port, strikes or other industrial action, act or decision of any government authority and any other events beyond the control of Dream Cruises and the tour operator.
Tour operators reserve the right to bar passengers from shore excursions for the following reasons: late guests; safety reasons; immigration and customs clearance; and conditions beyond the control of the tour operator.
All the above photos are for reference only. The information stated above is correct at the time of publication. Dream Cruises reserves the final right to amend and change any applicable terms and conditions without prior notice. In case of any disputes, the decision of Dream Cruises is final.
Dream Cruises will not be held responsible for any activity/transportation in ports of call other than that which is arranged through the tour desk onboard the vessels of Dream Cruises. Any activity/transportation inside or outside the port area is not within the control of Dream Cruises.
Itineraries and tour prices are subject to change without prior notice. Kindly refer to the final tour information onboard.
For guests in wheelchairs, crew members will be there to assist in the shore excursions, but they cannot support, carry or lift guests on board the tender for safety reasons. Guests in wheelchairs are required to wear appropriate, flat, and securely attached footwear when embarking and disembarking the tender. If the passenger uses a wheelchair or mobility scooter, please note that the passenger or the passenger's travelling companion is responsible for assembling and disassembling the wheelchair/mobility scooter.
Travel Accident Insurance
| Age | Medical expenses claimable due to an accident that happened during the course of the journey | Charges claimable for medical evacuation conducted during the course of the journey |
| --- | --- | --- |
| 6 months or above | Up to USD 5,000 (Deductible USD 50 /claim) | Up to USD 5,000 (Deductible USD 50 /claim) |

1) This Travel Accident Insurance is provided by AIG. The provision and exclusion stated under the AIG policy are conclusive. The company has the absolute right to terminate the policy without any notice.
2) Travel Accident Insurance is not meant to replace your own travel insurance. For the sake of completeness, we strongly advise you to obtain your own insurance arrangement before departure.
3) Please note that any claim for illness or injury, complete with full particulars, must be formally lodged to our Customer Service strictly within thirty (30) days from the date of the incident. Claims lodged after the said timeframe shall be considered as time-barred.
What are you waiting for? Where is your next vacation? World Dream of course!
---
Plan a wonderful weekend with us! Contact our travel hotline 6358 4231 or send us a message on our Facebook Page for more details.

WeekendGoWhere Product | Travel the World, One Weekend at a Time!
WeekendGoWhere Singapore is a Singapore Tourism Board (STB) certified travel agency. We provide you with discounted electronic tickets for Singapore attractions and great travel packages.
There are no reviews yet.
Write a review
In order to write a review, you must first
login
.