Valentine's Day Getaways To Impress The Love Of Your Life
Credits to WeekendGoWhere Singapore for this article.
Valentine's Day is coming, but still haven't prepared anything to 'wow' your partner? Don't worry, let me recommend you some places that will not only have an 'umph' factor but also an 'awww' factor!
Imagine star-gazing with the water-crashing beneath you? Oh yeah, that sounds like the kind of getaway all couples should experience.
Whether you prefer to get some private alone time, or you are an adventurous couple, The Residence Maldives at Dhigurah is perfect for you.
From endless water sport activities to relaxing in your own private pool, make this year's Valentine unforgettable!
Choose one of the many spots to have your private dining on their long stretch of beach.
You can trust Montigo Resort to make sure that the setting and the mood is just right for you to be all lovey-dovey.
The luxurious rooms are a given, with private pools in all rooms including sea views, can your Valentine trip get any better than this?
With direct access to the crystal clear sea from your villa, be mesmerised by the beauty Maldives offer.
In the tranquility of the relaxed pace of life, take some time to fully relax in one another's presence in Centara Ras Fushi Resort & Spa Maldives' signature overwater catamaran nets.
Centara Ras Fushi Resort & Spa Maldives is so frequented and loved by couples that they even have a honeymoon and anniversary package to celebrate every couple's special day.
Think having a candle-light dinner is too mainstream? At The Residence Bintan, you can have your whole dinner customised and personalised.
From a chef to craft 'the' perfect menu to a personal butler at your service throughout the night, make this Valentine's Night special at The Residence Bintan!
If you are worried about leaving your little ones behind, then bring them along! Don't worry, you can still enjoy your own couple time without worrying about your children because The Residence has a kids club that accommodates to children of all ages.
Valentine's Day making a hole in your wallet may make you dread this special occasion altogether. And Nirwana Resort Bintan will not stand for it!
At a more affordable price, have some intimate time as well as some adventure with your chosen one all in one place!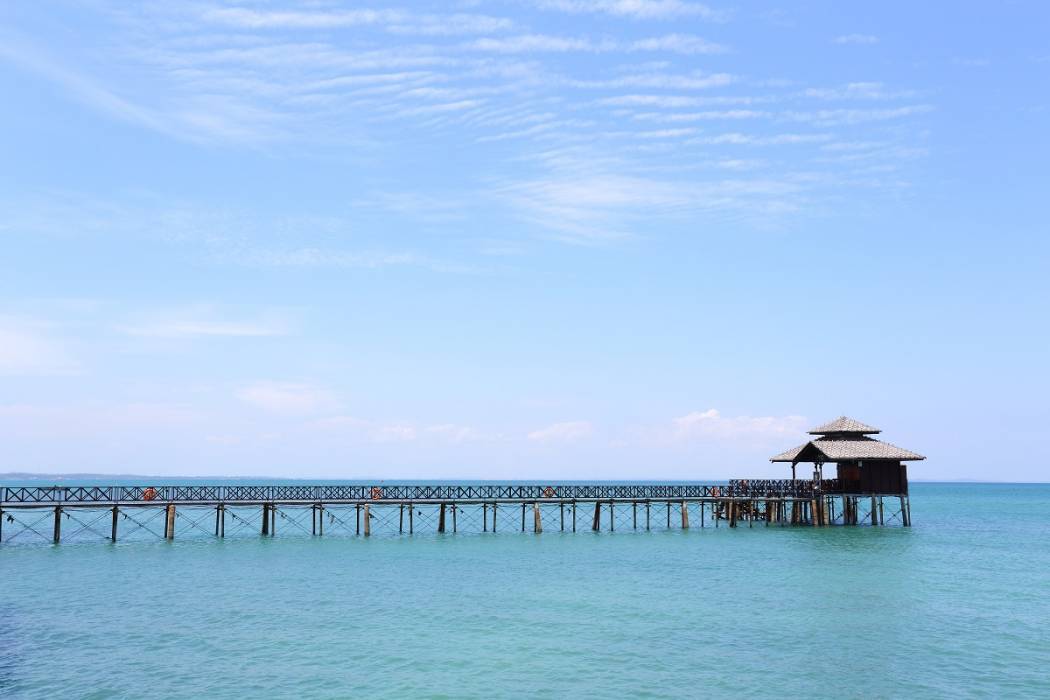 Have a romantic dinner over the waters watching the sunset with your partner. Can it get more romantic than this?
Indulge in 5-star accommodation and service with your loved one in one of their beachside villas. It is said, that one of the most romantic places for a date is the beach.
With the beach right at your doorstep, what better way to spend Valentine's Day at Mayang Sari Beach Resort?
End the day off with some cocktail while enjoying the sunset at their floating bar.
Another luxury stay, choose from one of their many unique villas to relax in.
All villas decorated in traditional Balinese style, each raised on stilts and set on hillsides, you are guaranteed to get some intimate time with your valentine!
Equipped with a beautiful golf course as well as award-winning spa facilities and services, be prepared to be pampered this Valentine's Day!
Can anything get more romantic than having breakfast in your own private pool?
Couples can enjoy some intimate time together with the whole villa to you, and probably have some HTHT (heart-to-heart talk).
Spice up your trip with some fun with archery, or even the ATV! Or if you are a 'lazing' kind of couple, then head down for some relaxing massages! Or simply just nua(relax) in your villa!
Couples need their own 'we time', with obviously, privacy. Here at Telunas Private Island, enjoy the privacy like none other (you would probably get more privacy here than at home, for real)!
With only 15 villas on the whole island, don't worry about getting slip-shot service because of the staff being overwhelmed.
With quality service, this Valentine's will be even more memorable! Couples can also take a boat across to Telunas Resort to enjoy the all-inclusive activities.
Centara Grand Island Resort & Spa Maldives would like to celebrate your special day together with you!
An expert with 'couple holidays', Centara Grand Island Resort & Spa can teach you the ropes to get your Valentine's heart going "help la... why so sweet".
Just for couples, Centara Grand Resort is offering special discounts and services to make your trip with your special one that much more EXTRAORDINARY!
If you are looking for a more simple yet memorable getaway, go for Cassia Resort Bintan! Spend some time together dishing up some DIY BBQ and steamboat, and bask in the sun on the vast white beaches.
Think a 'back-to-basics' holiday won't make it to the list of romantic getaways? Cassia Resort Bintan begs to differ!
If staying mostly in one place doesn't fit you, and you are more of a 'tour' person, there are honeymoon tours offered too!
Checkout WeekendGoWhere's Bali Honeymoon package, where they offer a full itinerary of what you can do, including tour guides.
To top that off, they have also compiled a list of resorts that are so romantic that your partner cannot help but go 'oh darling... that's so cute'. Check them out now!
Jay's Villas Umalas, Indonesia, Bali
Nicknamed the romantic boutique villa of Bali, you are guaranteed to have a romantic getaway at Jay's Villas Umalas!
With a private pool that the staff can decorate with flower petals to set the mood, and a whole villa to yourself, is there any way this can ever go unromantic?
To end off, there are also tours for you to join to explore Bali with a tour guide!