Click the buttons below to Chat With Us!
---
Royal Carribean - Anthem of the Seas
Here are all the sailing dates!
*3 Nights Penang*
2024
Nov 25
Dec 2, 14, 17
2025
Jan 20, 27
Feb 8
Mar 4

*4 Nights Penang & Phuket*
2024
Nov 21, 28
Dec 10, 20, 24
2025
Jan 12, 16, 23
Feb 4, 11, 15
Mar 7

*5 Nights Spice Of Southeast Asia*
2024
Dec 5, 28
2025
Jan 30
Feb 19
*8 Nights Bali Adventure*
2025
Feb 24
*10 Nights Thailand & Vietnam*
2025
Jan 2
-----------------------------------
*Sailing itinerary subject to change
You may decide on the sailing dates shown above so we are able to quote you the price in detail.
Do let us know the number of pax (adult+child with age) for the trip! :)
NOTE :
* Price inclusive of accommodation, taxes & gratuities, meals onboard, and entertainment onboard
* Package excluding personal insurance, VISA (if required) and gratuities.
* Prices subject to change due to date sensitivity and availability.
* Price quoted base on the cheapest cabin.
HURRY UP AND BOOK WITH US NOW!!
Contact our travel hotline WhatsApp: +65 9852 3592 /Office Line: +65 6358 4231 or send us a message on our Facebook Page for more details.
---
DESCRIPTION
Anthem of the Seas - A cruise ship operated by Royal Caribbean International, one of the world's largest and most popular cruise lines. It is part of Royal Caribbean's Quantum-class of ships, known for their innovative features and modern amenities.
In late 2024, travelers can eagerly anticipate the maiden voyage of Anthem of the Seas from Singapore. Passengers on this magnificent vessel will be treated to a wide array of entertainment options that promise endless amusement. Whether savoring the laid-back atmosphere of lounges and bars after sunset, such as the Latin-themed club Boleros with live music, or immersing themselves in the vibrant ambiance of Brass & Bock, a beloved English pub featuring a live guitarist and an extensive beverage selection, guests will find themselves captivated by the ship's vibrant spirit.
Anthem of the Seas isn't the same old song. It's a rally cry for all the thrill seekers, gourmet globetrotters and adventure aficionados. With spaces that transform on the fly and some of the fleet's best family friendly onboard activities, no other cruise ship packs in more cutting edge experiences in one single day.
ROOM TYPES
There are 4 categories of staterooms available:
- Interior
- Ocean View
- Balcony
- Royal Suite Class
INTERIOR STATEROOM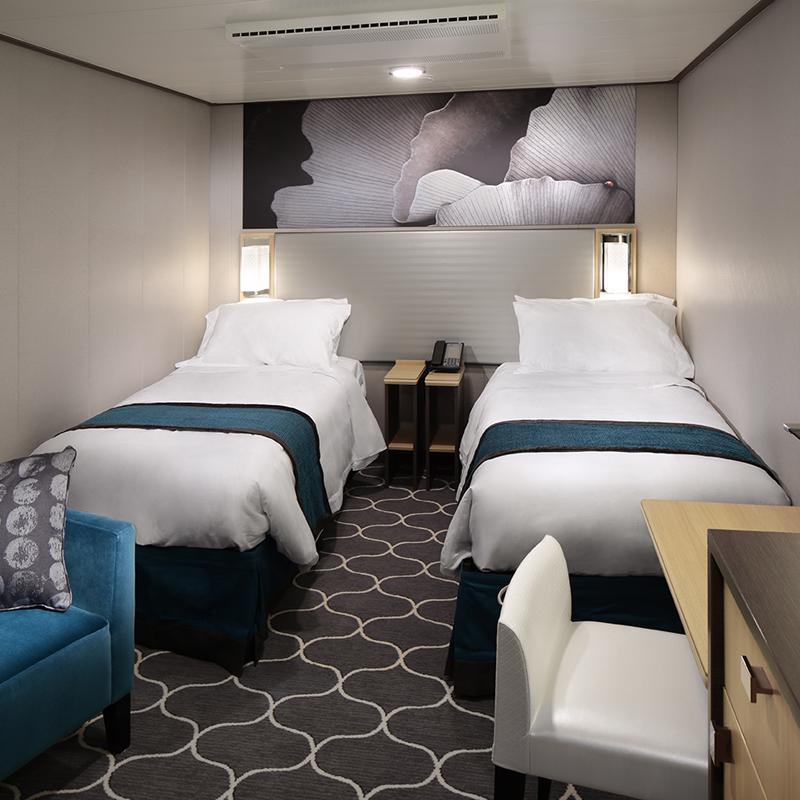 OCEANVIEW STATEROOM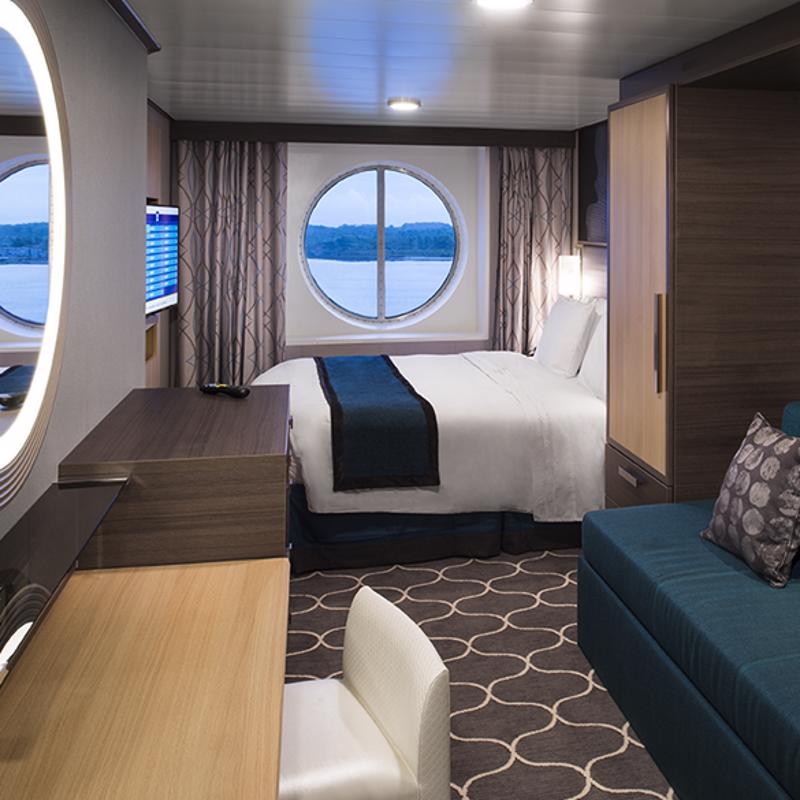 BALCONY STATEROOM
VIRTUAL BALCONY STATEROOM
THINGS TO DO
RIPCORD® BY IFLY®
BUMPER CARS

NORTH STAR®
FLOWRIDER®

WE WILL ROCK YOU

GIGI THE GIRAFFE
... and MANY MORE !
Dining
CHEF'S TABLE

WINDJAMMER
IZUMI
SORRENTO'S PIZZA
... and MANY MORE !
---
Cruise Tips
What to wear?
If you choose to dine in for western cuisine in the formal restaurant, please do not wear informal attire. For male guests, at least wear long pants or jeans, no shorts, sleeveless shirts, travel shoes or sandals will be allowed; for female guests, no shorts, sandals and camisoles is allowed.
Normally, a welcome cocktail party and other special parties that are specially designed for interested customers will be held. All guests are required to wear formal attire for these events.
Except for the above-mentioned occasions, you can wear casually onboard at any time!
What to do?
Daily notifications will be put up at every corner on the cruise. Moreover, the cruise crew will put a detailed daily itinerary inside each guest room. Except for the standard and fix activities, there are other special activities as well and they differ from day to day. What a pity to miss out on any of them! So please remember to check the agenda every day!
Take for instance, Royal Caribbean offer high standard performances such as magic shows and concerts delivered by famous artists from all over the world every day. If your children prefer playing than to watch performances, you can always let them go to the children room. These rooms are divided into different age groups and your children will definitely have a great time playing there!
How to pay?
Cash: As you check in, you can link your credit card to your room card. For every purchase you make onboard, you only need to show your room card. Payments will be automatically deducted from your credit card as your journey ends. There is no need to bring cash onboard.
Tips: The staff provide excellent service but they will not accept tips under any circumstances. However, their performance will be assessed based on the feedback from the customer survey forms that you will fill up when you leave. You can show your appreciation by giving them positive feedbacks!
What does my payment for the trip include?
All meals, night performances, accommodation and port charges are included. Majority of the public facilities are free.
What can I bring onboard?
There is no need for you to bring any food or water because food and drinks will be provided for free onboard. You can pack food from restaurants or those stalls with 24-hour food and water supply and consume in your own room. There is also 24-hour hot drinking water supply onboard if for the need of the elderly customers. Please remember not to bring any liquor with you to the cruise!
How can my family contact me?
When sailing at sea, your family can contact you via satellite phone calls and email.
---
Plan a wonderful weekend with us! Call our hotline 6631 8554 or send us a WhatsApp us at +65 9851 5840.
Facebook | Instagram | Telegram

WeekendGoWhere Product | Travel the World, One Weekend at a Time!
WeekendGoWhere Singapore is a Singapore Tourism Board (STB) certified travel agency. We provide you with the BEST discounts for Attractions, Cruises, and Travel Packages.
There are no reviews yet.
Write a review
In order to write a review, you must first
login
.