- Evening order will be issued by next day morning
Guests excited to ride the movies and meet their favourite characters once again with the reopening of Universal Studios Singapore
Hop onto the thrilling rides of Mummy Ride and Battlestar Galactica: HUMAN vs. CYCLON to experience adrenaline rush!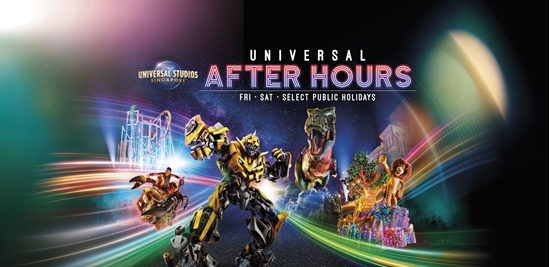 Watch your favourite characters come alive from Puss In Boots, Kungfu Panda and Sesame Street!
Plenty of exciting shows and attractions based on famous blockbuster films and television series await you!
Indulge yourself in the water rapids ride - Jurassic Park Rapids Adventure™, Sesame Street Spaghetti Space Chase and more!
---
Plan a wonderful weekend with us! Call our hotline 6358 4231 or send us a WhatsApp us at +65 9141 6956.
Facebook | Instagram | Telegram

WeekendGoWhere Product | Travel the World, One Weekend at a Time!
WeekendGoWhere Singapore is a Singapore Tourism Board (STB) certified travel agency. We provide you with the BEST discounts for Attractions, Cruises, and Travel Packages.
2017-11-17 14:56:40

GOOD

Liang Guihui

2017-05-01 04:28:17

Must go place in Singapore!

Vincent Tan

2017-03-08 10:34:07

Nice place to take photos with friends! Highly recommended!!

Mable Yip

2017-01-19 22:16:47

very convenient and is cheaper than buying on the spot!!

Linda Chan

2016-12-19 04:02:05

Nice theme park which we have been visiting almost every time we are in Singapore. Its a must go attraction for our family. Worth the money/time etc.

Ben

2016-12-15 07:49:54

it is beautiful around Christmas so do try planning your visit around then.

Han Hui

2016-12-13 09:03:38

This is a fantastic place, all the rides we rode were awesome. It's a nice big place, very nicely orchestrated. Toilets are everywhere which is very helpful.

Robin Ben

2016-12-12 01:00:12

Entertaining place to be visited in Singapore. But you need to come early, otherwise you will get queue in the attraction.

Hilary

2016-12-11 16:24:18

We purchased a 6 month pass which allowed us unlimited access in and out of the park, this worked out better value even though we were only there for 4 days.

Valerie Michelle

2016-12-10 02:27:00

nice place! I wanna try again next trip

Yogesh Kumar

2016-12-05 00:20:04

A must visit for kids and grown-ups! Do pick up the map from near the entrance to help navigate and pick places of your interest.

Gary Vaynerchuk

2016-12-03 02:44:29

It's a must if visiting Singapore. Will surely visit again.

Wilson

2016-12-01 13:23:43

Food inside the studio were also reasonable priced. It is very highly recommended to buy the universal express pass, that basically saved us hours waiting in line. Even though the price for the universe express pass is a bit steep, but the money spent is really well worth for the time saved. Nice place with couple or family.

Oscar

2016-12-01 11:57:42

Good place!!! Best to spend one full day in and dress comfortably. Always remember your sunblock because Singapore is really hot.

Menaho

2016-12-01 01:14:52

good place with my children. if you wanted to wait for the evening parade. So maybe you can spend sometime in cafe or eatery.

Valerie Chu

2016-11-27 22:23:38

My friends told me a good suggestion which is to buy the tickets online to avoid the queue. Also, if you happen to be in Singapore during October, they have the Halloween Horror Nights which is my favourite event there. Buy tickets in advance for this event as it is popular even among the locals.

JEN

2016-11-13 04:42:38

Was here on a Sunday. The crowd seem ok and no need to queue very long for rides without express pass.

Vivian Yang

2016-11-07 05:09:56

cheaper than on-site purchase!

Vanessa Yap

2016-10-31 11:57:24

Very good! Convenient and save money too!

Jack Woo

2016-10-14 02:02:06

Booking process is very simple , recieved eticket very quickly!

jenny

2016-10-06 07:27:31

Quite happy with it and you don't really need a day at the park.

Vagi Nalarasati

2016-10-04 10:43:09

I simply love this place, it's got something for everyone and that's the best part of it. Don't miss the roller coaster ride when there!

Roxanne Jessie

2016-09-16 10:40:27

Very convenient to buy ticket in Weekendgowhere!

Cheong Soo yeen

2016-08-17 14:10:45

We love the transformers game and the water world show and fantastic games and in the park. Waiting time is not really too long!

Soumya

1970-01-02 00:30:57

good!!!!!!!!!!!!!

Tommy Ho
Write a review
In order to write a review, you must first
login
.



Information on Tickets
After payment, retrieve electronic tickets (PDF files) from "Tickets" section.
Simply show the electronic tickets on your mobile (with barcode shown) at the entrance.
Child tickets are valid for children aged 4 to 12 years old only.
Please note that these tickets are for tourists only.(Tourists can take passports and Singapore customs white CARDS entry to the scenic spot to be upgraded to annual or seasonal tickets)

Shows, street entertainment, and select experiences will not be available until further notice.
Operating Hours
The operating hours for USS are at 11AM to 6 PM (Monday to Sunday)
Address
Universal Studios Singapore, 8 Sentosa Gateway, Sentosa Island, Singapore 098269

The following offerings will not be available until further notice:

Street Entertainment
Hollywood Dreams Parade
Rhythm Truck
Turntables
The Dance For The Magic Beans
Madagascar Boogie!
Shows
Lake Hollywood Spectacular
Elmo's TV Time
Lights, Camera, Action!
WaterWorld
Shrek 4-D Adventure
Donkey Live
Select experiences
Magic Potion Spin
Amber Rock Climb
How To Get There
Board the MRT (North-East Line or Circle Line) to Harbourfront Station.
Sentosa Express: Take Exit E to VivoCity and proceed to Level 3 to board the Sentosa Express. Alight one the next stop at Waterfront Station.

On Foot: Proceed to Level 1 of VivoCity and look for directions to the Boardwalk, walk through the boardwalk to Sentosa Island.

Cable Car: Walk towards Exit B within HarbourFront train station.Follow the directional signs leading to Singapore Cable Car station at HarbourFront Tower ll.Board the cable car and disembark at Imbiah station. Take the Sentosa Express and alight 1 stops later at Waterfront station.
---
If you need assistance, kindly drop our travel consultants a personal message at our Facebook Page: WeekendGoWhere Singapore. Alternatively, you can contact our office directly at (65) 6635 7784.
By purchasing your tickets with WeekendGoWhere Singapore, you are deemed to have agreed to the terms and conditions listed here.
Cancellation:
Once confirmed, no cancellation may be made. Opening hours subject to change due to special events, without prior notice.