Wild Wild Wet
Wild Wild Wet, located in downtown east, is one of the largest water parks in Singapore. It is only 10 to 15- min walk to Pasir Ris MRT station.
Exciting Ular-lah
The first raft slide in Southeast Asia, Ular-Lah is a super flume ride that offers you a chance to brave the rapids with five other companions. Ideal for thrill and adrenaline seekers!
360 degree of rotation! It's the closest thing you'll ever experience next to white water rafting!
Why not invite a few friends to feel the coolness in summer?
Exciting slide that takes you from the top right to the bottom of the water!
Water Works
Slam your way through wacky curves and crazy turnings with The Waterworks, the high-speed flume ride that makes a maze look like child's play!
I am not sure whether the salty water is sea water : P
Slide Up
Slide Up is probably the craziest one among all in Wild Wild Wet. Imagine plunging down a four-storey ramp, accelerating until you hit the deck and skimming across to soar on the opposite side.
Now repeat that several times until your momentum runs out!
Torpedo
Experience free-falling from four storeys high and twist and turn on Torpedo! You never know G-Force can be this fun!
Ready for your free- falling?
This is the first Torpedo in Singapore!
The all-new Torpedo ejects you from an 18-metre-high capsule right into a heart-stopping free fall, which propels you straight into a manic trajectory of hair raising twist and turns at mind-numbing speed of up to 70km/hr.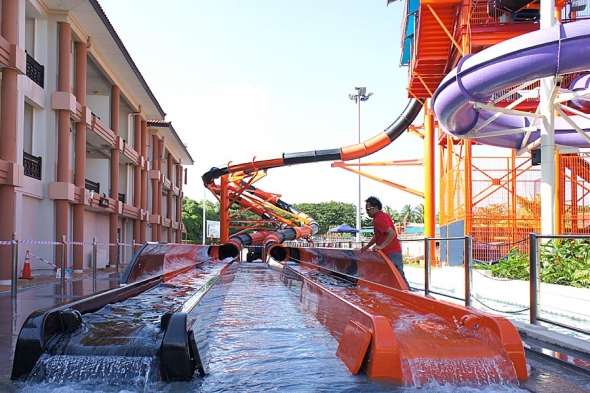 Professor's Playground
Professor's Play ground is specially designed for kids.
Looking for a place that will generate hours of fun for your kids? What can be a better way to rivet a kid's attention than the double attraction of a playground located in a swimming pool?
Designed around the theme of an experimental laboratory, Professor's Playground packs a myriad of classic fixtures such as slides, ladders, water cannons and fountains.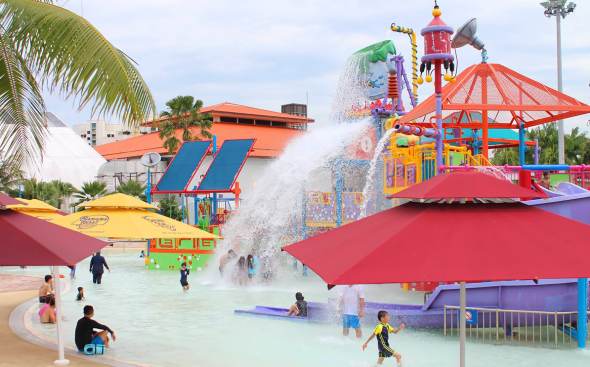 Shiok river
Spanning 335 metres in length, Shiok River skirts the perimeter of the park, meandering through a variety of lush landscape that will leave you soothed and invigorated.
Relax on the swimming ring if you ever feel tired!
Tsunami
Tsunami combines the best of swimming pools and the sea to give you the excitement of the surf under controlled conditions.
Without the hassle of choppy swells or dangerous currents, even kids can feel totally at ease in
the water.
Royal flush
Asia' first hybrid ride featuring both the Behemoth BOWL40 and TornadoWAVE! Holler your lungs out as you drop into the ginormous bowl and take the curves at crazy speeds!
Group work is quite important in this case.
Free fall
Take the plunge down a near-vertical drop at speeds of up to 50 feet per second on one of Asia's longest free fall water slides!
Kidz zone
Give the young ones a taste of a wilder world at the all-new kids' water paradise that is filled with exhilarating pint-sized versions of the big rides!
The humane design makes children feel secured yet interesting!
Various slides are available here!
Best place for kids' gathering!
Please check the dress code here!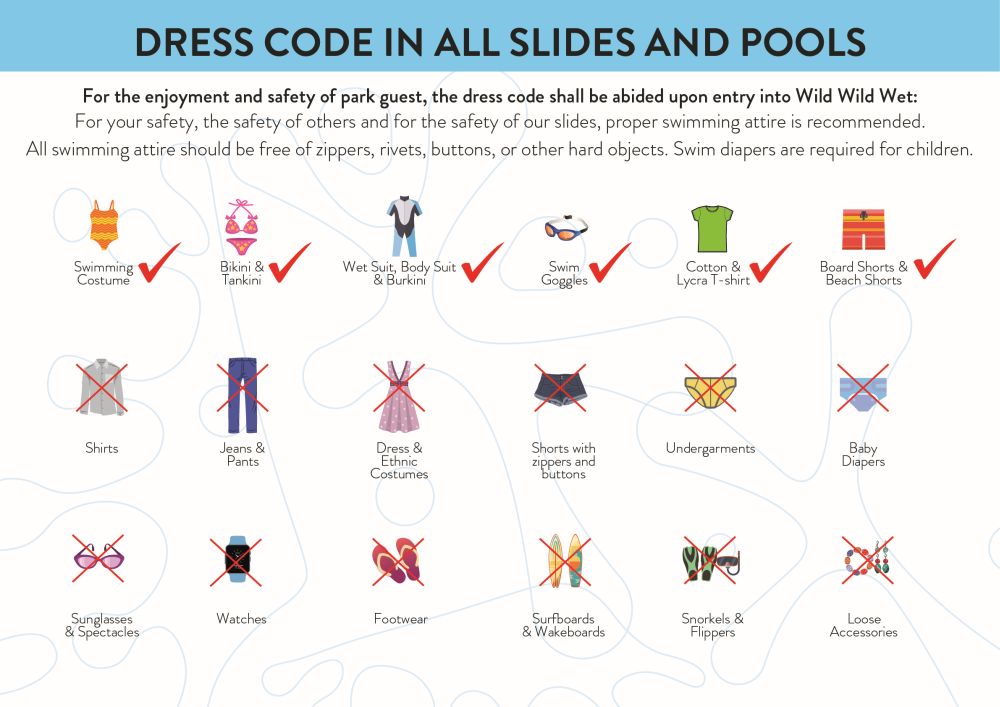 ---
Plan a wonderful weekend with us! Call our hotline 6358 4231 or send us a WhatsApp us at +65 9141 6956.
Facebook | Instagram | Telegram

WeekendGoWhere Product | Travel the World, One Weekend at a Time!
WeekendGoWhere Singapore is a Singapore Tourism Board (STB) certified travel agency. We provide you with the BEST discounts for Attractions, Cruises, and Travel Packages.
2018-07-22 18:37:29

Facilities r good. Had fun. Don't mind paying the entrance fee. However $10 for a small locker is total rip-off

Pica
Write a review
In order to write a review, you must first
login
.
How to use the E- ticket:
Please contact our consultant to place an order.
Check under ' My order' to find your E- ticket. Print out the ticket with a very clear barcode. Exchange for a physical ticket at the designated area.
Please refer to the bottom for checking when to use each type of ticket:
Weekdays Ticket: Mondays to Fridays ( other than school holidays and public holidays)
Peak Ticket: Saturdays to Sundayss ( including school holidays and public holidays)
Public holidays in 2019:
Aug 17, 23, 24, 30, 31/ Sept 6 to 15 ,Sept 21, 22, 27, 28/ Oct 4, 5, 11, 12, 18, 19, 25, 26, 27, 28 / Nov 1, 2, 8, 9, 15, 16, 22 up to 30 / Dec all dates
01 Jan-31st March 2020: Shiok River, Slide Up, Waterworks & Torpedo will be closed for maintenance.
Validity: 1-2 months
Operating Hours:
Peak (Weekends, school holiday and public holiday) 10:00am-19:00pm

Off Peak (Weekdays) 13:00pm-19:00pm Daily last admission at 6:00pm

Please check the operating hours on your date of travel as the attraction may ajdust their operating hours
Gentle reminder: Please do not bring food or drinks into the park.
Various types of ticket:
Adult ticket: more than 12 years old.

Child ticket: 3-12 years old.

Children below 3 years old can enter for free.
Price includes: Wild Wild Wet ticket.
Price excludes: All those that are not mentioned.
Address: 1 Pasir Ris Close E!Hub@Downtown East, Singapore519599, Singapore
Route:
Bus: Take 3, 5, 6, 12, 17, 21, 89, 354, 358 and get off at Pasir Ris MRT Station.
MRT:Take EW1 and get off at Pasir Ris MRT Station.
Things to note:
Please make sure you are of suitable health condition to attend the activties. We advise you to purchase your own travel insurance according to your own situation.
You may choose to pay for tips or other kind os payments in the trip according to your own will. It is not compulsory, hence we do not accept compaints about such relevant cases.
You will need to pay for the charge arised from external factors, such as delay in flights, traffic accident, natual disaster, etc.
Please contact our consultant if you are not allowed to enter the attraction upon arrival. We will deal with the case immediately. However, we do not hold any responsibilities if you leave the spot without contacting us.

Office hotline: +65 6909 2477
Cancellation:
Once confirmed, no cancellation may be made. Opening hours subject to change due to special events, without prior notice.