5 Things To Do In Phuket
---
For Best Price Deals, Whatsapp +65 9852 3592 or Messenger Chat or Call +65 6631 8554 (9am - 6pm)
Follow us on Facebook for the latest updates: https://www.facebook.com/gowheresg/
---
5 Things To Do In Phuket
Phuket is a beautiful Thai island located in the Andaman Sea. It's known for its stunning beaches, crystal-clear waters, cultural attractions like temples, and delicious local cuisine. With a mix of modern amenities and traditional charm, it's a popular destination for tourists seeking relaxation, adventure, and cultural experiences.
---
1.

Visit the beaches
Phuket is known for its beautiful beaches, so make sure to spend some time soaking up the sun and swimming in the turquoise waters. Popular beaches include Patong Beach, Karon Beach, Kata Beach, and Nai Harn Beach.
Patong Beach
Patong Beach is a popular beach located on the west coast of Phuket, Thailand. It's the largest and busiest beach in Phuket, known for its long stretch of white sand and turquoise waters. The beach can get quite crowded during peak season, but it's a must-visit destination for anyone traveling to Phuket.
Kata Beach
Kata Beach is a beautiful beach located on the west coast of Phuket, Thailand. It's known for its picturesque setting, with clear turquoise waters and a long stretch of white sand. The beach is popular with both locals and tourists, and it offers a range of activities such as swimming, snorkeling, and surfing.
2.

Go island hopping
Island hopping is a popular activity in Phuket. Phuket is surrounded by several small islands, so take a boat tour to explore them. The most popular islands to visit include Phi Phi Islands, James Bond Island, and Coral Island.
Phi Phi Islands
Located about 45 minutes away by speedboat, the Phi Phi Islands are a popular destination for their beautiful beaches and crystal-clear waters. You can go snorkeling, kayaking, or take a boat tour around the islands to see stunning limestone cliffs and caves.
James Bond Island
This island is famous for its appearance in the James Bond movie "The Man with the Golden Gun" in 1974. You can take a boat tour to explore the island's beautiful limestone cliffs and enjoy swimming and snorkeling in the surrounding waters.
3. Visiting temples in Phuket
Phuket has several beautiful temples worth visiting, including Wat Chalong and Big Buddha. These sites offer a glimpse into the rich history and culture of Thailand.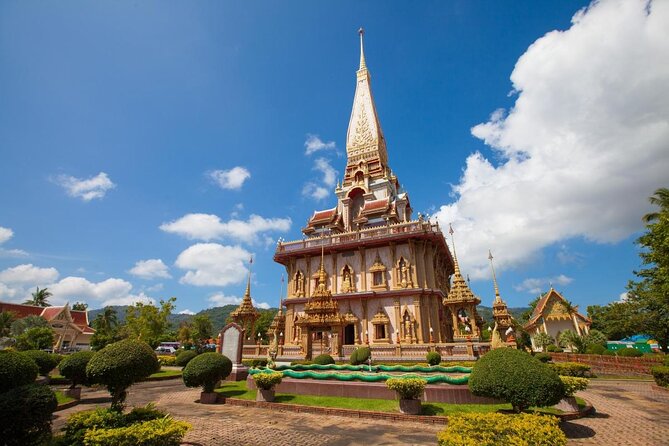 Wat Chalong
Located in the Chalong area of Phuket, Wat Chalong is one of the largest and most important temples on the island. The temple complex features several buildings, including a grand pagoda and a hall of relics. Visitors can admire the intricate carvings and decorations, and also learn about the life of Luang Por Chaem, a revered monk who is said to have performed many miracles.
Big Buddha
Big Buddha is a giant statue of Buddha that sits atop a hill overlooking Phuket. The statue stands 45 meters tall and is made of white marble. Visitors can climb the steps to the base of the statue and enjoy panoramic views of the surrounding landscape. There are also several smaller shrines and temples in the area, as well as a museum that offers insight into Buddhism and Thai culture.
4. Try local cuisine
Thailand is known for its delicious cuisine, so be sure to try some local dishes while in Phuket. Some popular dishes to try include pad Thai, green curry, and mango sticky rice. You can find street vendors and local restaurants throughout the city.
Pad Thai
Green Curry
Mango Sticky Rice
Tom yum goong
Som tam
5. Explore Old Phuket Town
Old Phuket Town is a must-visit destination for history and architecture enthusiasts. The town features a mix of Sino-Portuguese and Chinese architecture, reflecting its rich cultural heritage. You can take a stroll along the narrow streets and admire the colorful buildings, ornate doors and windows, and intricate details on the walls.
>>> Check out Phuket Best Deals Resorts in 2023 <<<
---
For Best Price Deals, Whatsapp +65 9852 3592 or Messenger Chat or Call +65 6631 8554 (9am - 6pm)